Lament of the Antichrist in a Secular World, Poems by Cara Chamberlain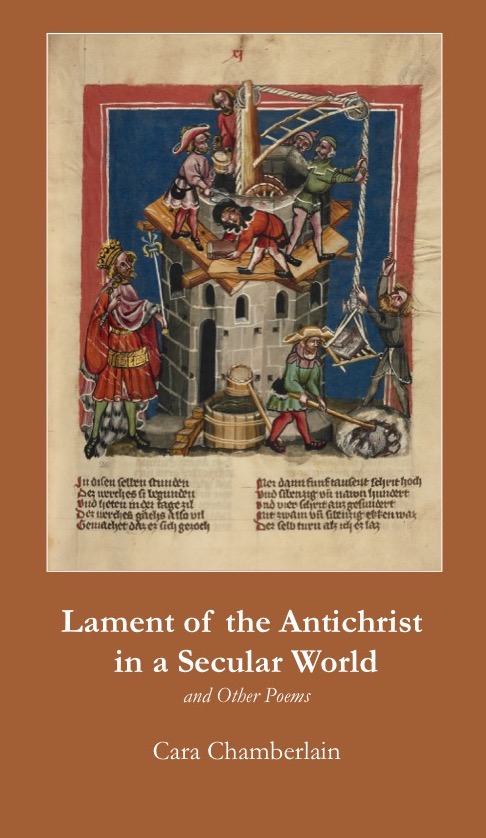 The narrators of poems in Lament of the Antichrist in a Secular World by Cara Chamberlain speak in many voices, many tongues, a harmony out of cacophony that touches the spirit and the flesh.
Sample Poems by Cara Chamberlain
"What is an Antichrist to do when he becomes irrelevant? Here, he lurks in alleys and admires the gardens of middle class houses, imagining the lives he cannot touch. Cara Chamberlain's poems feature a homeless Ezekiel who is mistaken for a terrorist and a cast of well-known and not-so-well known characters from both the Old and New Testaments. They could be our neighbors or the people we see on the street. Lament of the Antichrist in a Secular World is funny, irreverent, and wise. Cara Chamberlain's expansive and unflinching imagination helps us examine our own lives through our encounter with these myth-busting narratives."-Tami Haaland, author of When We Wake in the Night
"This is a beautifully judged collection. Cara Chamberlain releases the hoary prophets and the eager apostles and the mighty kings from the scriptures and lets them roam America and beyond - with unexpected results. See 'Ezekiel Visits the Sea Cave near the Copper Refinery on the Shores of the Great Salt Lake' or 'Nebuchadnezzar, Trickle-Down Economics , and the Alternate Ending' . There's a great deal of knowingness, compassion and wit in this clever book. Chamberlain juxtaposes the beauty of the King James Bible with a modern vernacular voice creating, in turn, bathos and brutality and, not infrequently, a finely modulated lyricism. And the traditionally un-heard - women in most cases - are given a voice: 'He spouts such unending/ apocalyptic drivel./And just yesterday he got all/those painful tattoos!/ Think of what you'll look like/ when you're sixty five, I told him' ('Jeremiahs' Mother'). Religious writings re-negotiated, the past in the present, Lament of the AntiChrist in a Secular World is ultimately a very skilful and timely meditation on the anguish and uncertainly of our troubled age."-Julian Stannard, author of What Were You Thinking?
Cara Chamberlain is the author of two previous books of poetry, Hidden Things and The Divine Botany. Her work has appeared in such journals as The Southern Review, Nimrod, Boston Review, and Tar River Poetry. She lives in Billings, MT.
ISBN: 978-1625492289, 108 pages, $19