The Art of Acquiescence, Poems by Joseph A. Chelius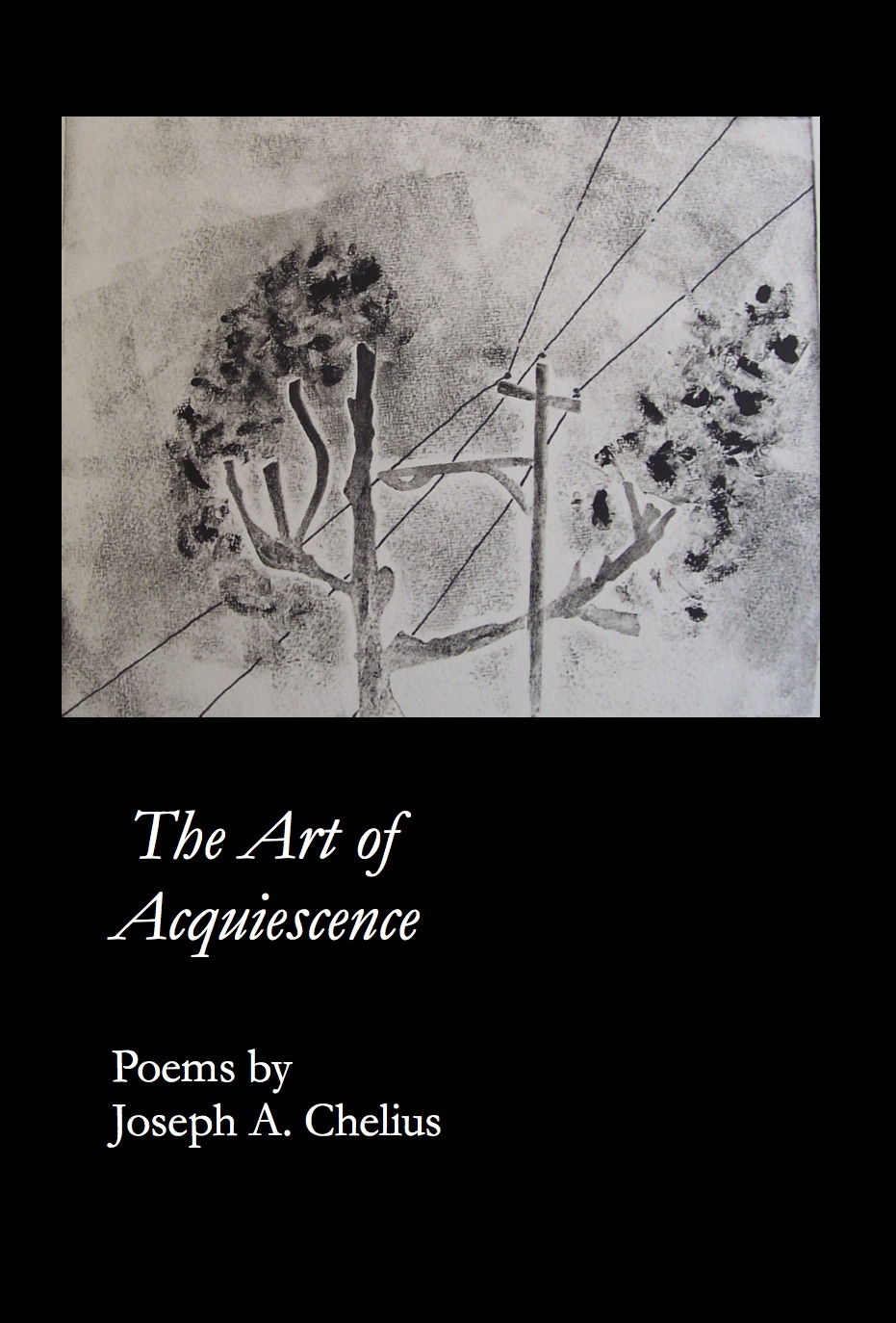 In The Art of Acquiescence, Joseph A. Chelius writes with poignancy and humor about ordinary experience, using metaphor and small evocative details to bring home, office, neighborhood, and ball field alive for readers.
Sample Poems by Joseph A. Chelius
"Push-mower in the half-cut grass, squeaky pogo stick, the sleepy caboose of an ellipsis, Sister Mary Anthony with the 102 boys in her first grade class, Schroeder with his bust of scowling Beethoven, Bruce Springsteen on the elliptical machine, Ed Vosberg's dinky slider, the poet's father laying out thin slices of Stroehmann for his children's school lunches, the poet's son dancing off first base, the poet's daughter teaching in the Delta--everywhere we turn in The Art of Acquiescence, we find ourselves in a neighborhood both familiar and full of surprises, thanks to Joe Chelius who teaches us to see with loving attention and courageously clear eyes. This book reminds us what matters; it turns acquiescence into an art. There is no capitulation here, no surrender; but there is consent: a brave acknowledgment that this is the world we have been given and we've been given the chance to love it, with all its griefs, its challenges, its rewards, its Jersey tomatoes, its almond biscotti, its scuffed gymnasium floors, its green corduroy, its blue arm chairs, its good effort, its signs of munificence."--Christopher Bursk
"In these poems, and with an attendant reverence, Chelius shows himself a quiet master of the lyric ode. We find ourselves in graceful poems where each castoff--a blue chair by the Turnpike, a flimsy plastic bag in a tree, or push mower--is embodied, transfigured. Here is a sort of portraiture of work and play, of memory and connectedness. We see and feel Chelius moving deftly from outfield to shopping center to hobbled Nativity scene, and we are witness with him to the many humble objects and moments in the world 'assuming a different weight.'"--A.V. Christie
"In poem after poem Joseph Chelius gets what he goes after, naming the smallest gifts of the world: the yo-yo 'with its fidelity to the hand,' 'a large dragonfly wearing goggles/and a beady helmet,' a stop sign 'so insistent on making its point that 'I can't help wondering if it's better to be happy or right.' These poems offer us a way of looking at the world with humility and gratitude. What a remarkable debut this book is."--Jeanne Murray Walker
Joseph A. Chelius works as a senior copy editor for a healthcare communications company in the suburbs of Philadelphia. His poems have twice been nominated for a Pushcart prize, and in 2000 he was named Poet Laureate of Bucks County, Pennsylvania. He has had two poetry chapbooks published by Pudding House, Taking Pitches (2006) and Row House Yards (2011), and has read his work at the Buckingham Peace Fair, the Wordsmith Poetry Series at Bucks County Community College, Reach Out, the LaSalle University Art Museum, the Manayunk Art Center, and the Philadelphia Free Library Monday Night Poetry Series.
ISBN-13: 978-1625491107, 96 pages