Counting the Waves, Poems by Deborah Cummins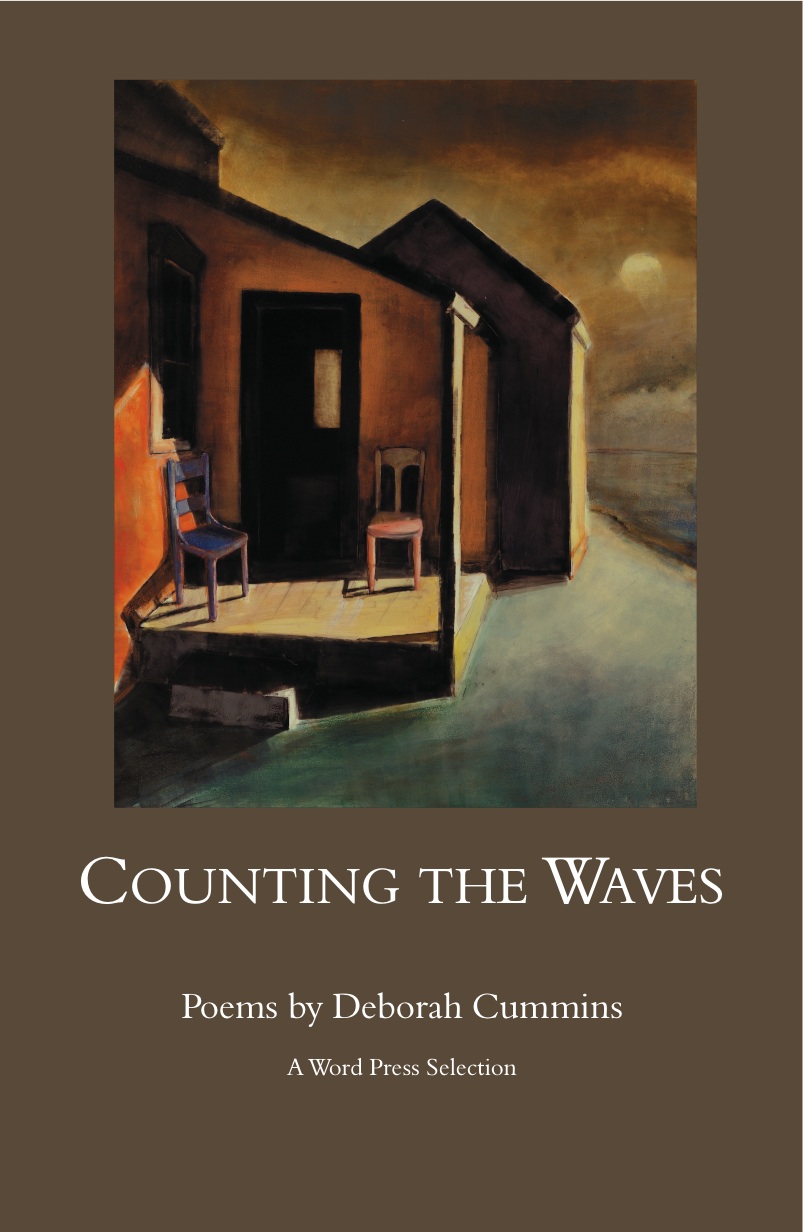 The world in Deborah Cummins' Counting the Waves becomes dazzlingly, startlingly renewed and transformed through her close scrutiny: these carefully wrought poems, as sharply incised as cut diamonds, glitter with an incandescent light.
Sample Poems by Deborah Cummmins

Praise for Deborah Cummins' Previous Work

"In this elegant, articulate debut book, Deborah Cummins has gone well beyond the reach–into the deep, hard-to-chart expanses of the heart."—Judith Kitchen, The Georgia Review
"Deborah Cummins shows us how lovely–truly elegant–and frightening it is to experience the moments where the natural and human worlds intersect and inevitably and achingly part. Beyond the Reach is a remarkable first book, reaching far beyond most, because of the distilled clarity and beauty of its language and its highly intelligent and haunting, philosophical range."—Susan Hahn

"Cummins sees in poetry a paradoxical process of acknowledging change yet arresting the brightest of our brief moments...her poems show how we save ourselves by seeing, by being aware of time, and what it tells us about our poignant, finite condition."—Peter Makuck, The Laurel Review

"Cummins is a poet with both hands in plain sight. No manipulative literary affections, no illustrations of theory, no personal mission other than to address us directly, with clarity, authenticity, and, above all, with generosity."—Ted Kooser, U.S. Poet Laureate

Deborah Cummins is the author of a previous collection of poems, Beyond the Reach (BkMk Press). Her numerous recognitions include James A. Michener and Donald Barthelme fellowships, the Washington Prize in Fiction, the Headwaters Literary Prize, and multiple awards and fellowships from the Illinois Art Council . She has taught and led workshops at the University of Chicago, Northwestern University, Chicago Museum of Modern Art, Menil Collection in Houston, Texas, and Chicago's Terra Museum of American Art and Newberry Library. From 2001 to 2005, she was first Chair of the Board of the Poetry Foundation and currently serves on the board. She resides with her husband in Evanston, Illinois and Deer Isle, Maine.
ISBN: 1933456302, 88 pages, $17.00