Just to See How It Feels, Poems by Allison Cundiff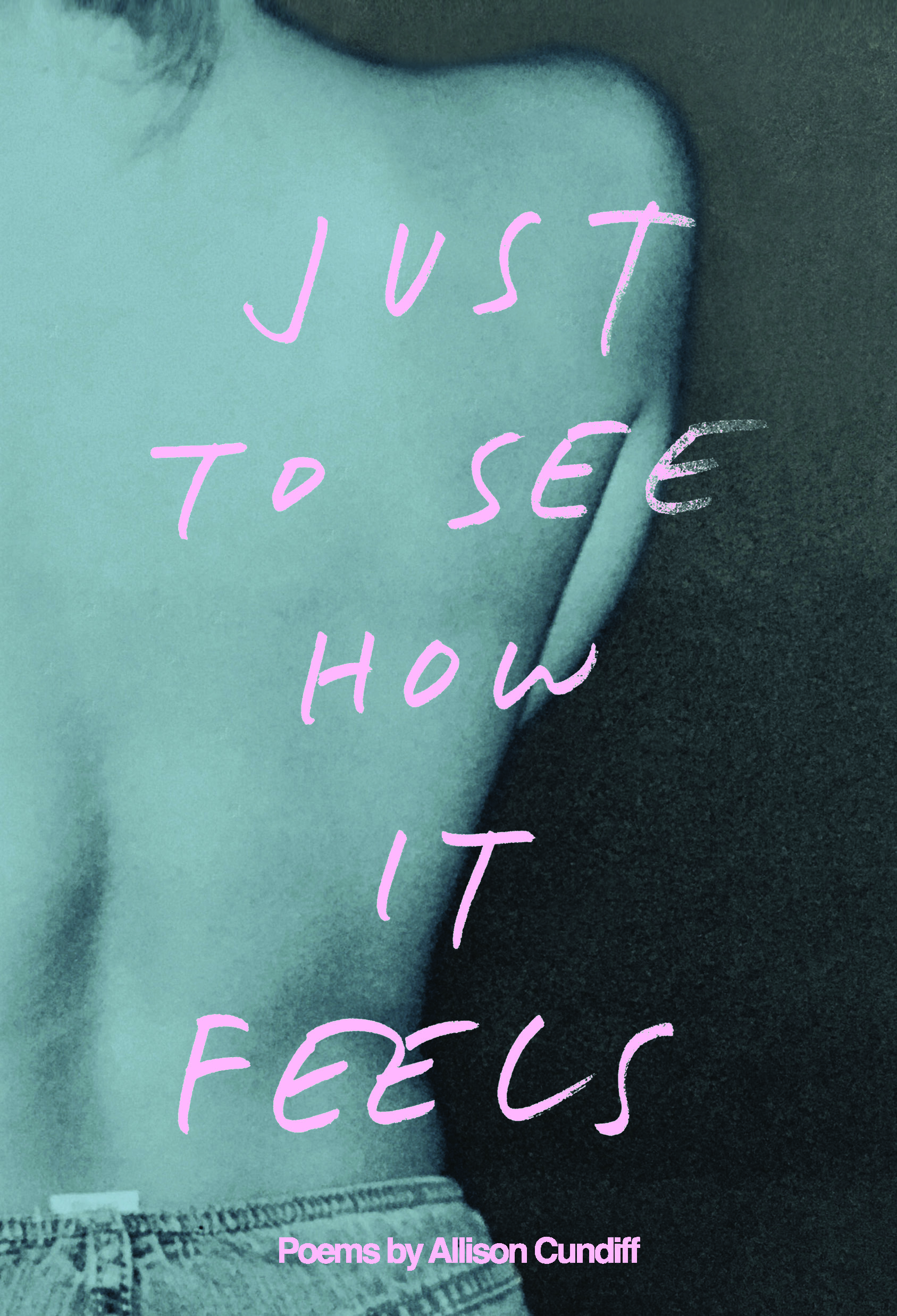 There are moments in our lives that arrive, often uninvited, when our attention is elsewhere. And when they come with force, how do we know what to do? How do we decide not to die? Art comes from our messes, from our bones that survive, smoldering in the fire. This is more interesting than what we plaster over with beauty.
Sample Poems by Allison Cundiff
"What I adore most about this chapbook, Just To See How it Feels, is the delicate balance Cundiff achieves between the relentless story that demands to be told and the beauty of the language she uses to tell it. The exacting prose gives way to such intricate fastenings as: the slouching puppy lifted from his cedar warmth; Love is the small goodness; and, that greenblue lake filling the whole sky of the bedroom. This is the world where the frond becomes the infant, where women wait for husbands in the witching hour, and the old love, the original, earthly love, returns again and again as children, mothers, and lovers. Absolutely recommended." -Andrew Demcak, author of Night Chant, Lethe Press.
"Allison Cundiff's poetry doesn't tell a story to the reader so much as it includes them. Her prose is a slow dance of imagery and vulnerability as huge moments are revealed through small revelations. Her voice is honest, her tone intimate, but still somehow inviting, turning strangers into close friends and confidants with each turn of the page. She refuses to shy away from the uncomfortable and unknown, instead turning to face it directly with an honest voice." - Marcus Eder, author of Rorschach's Ribs, Holidaze, and Nobody Puts Swayze in the Corner.
"How refreshing to learn, right up front and in the words of the poet herself, just where she is coming from. In a simply riveting Introduction, Cundiff shares the wrenching personal experience that motivated these poems. The poems themselves (there are eighteen) reveal eloquently how the year 2016, tumultuous politically as well as personally, felt to her both bodily (ten poems) and spiritually (eight poems). The year's seasons, and special moments therein, are illuminated with intimacy, intensity, and insight. In a time when poets routinely mistake obscurity for profundity, Cundiff opts clearly not for pretentious obfuscation, but for genuine communication, making this chapbook a truly memorable read. What a treat."-Robert Bates Graber (Author of Valuing Useless Knowledge and Plutonic Sonnets)
Allison Cundiff is an adjunct Professor of English at Lindenwood University in St. Charles, Missouri and an English teacher at Parkway North High School in Creve Coeur, Missouri. Her publications include two books of poetry, Otherings (2016, Golden Antelope Press), and In Short, A Memory of the Other on a Good Day, co-authored with Steven Schreiner, (2014, Golden Antelope Press) articles in The Pragmatic Buddhist, The St. Louis Post Dispatch, Feminist Teacher, In Layman's Terms, and poetry in The Chariton Review. She lives in St. Louis.
ISBN: 978-1625492784, 102 pages, $19.00