Universal Monsters, Poems by Bryan Dietrich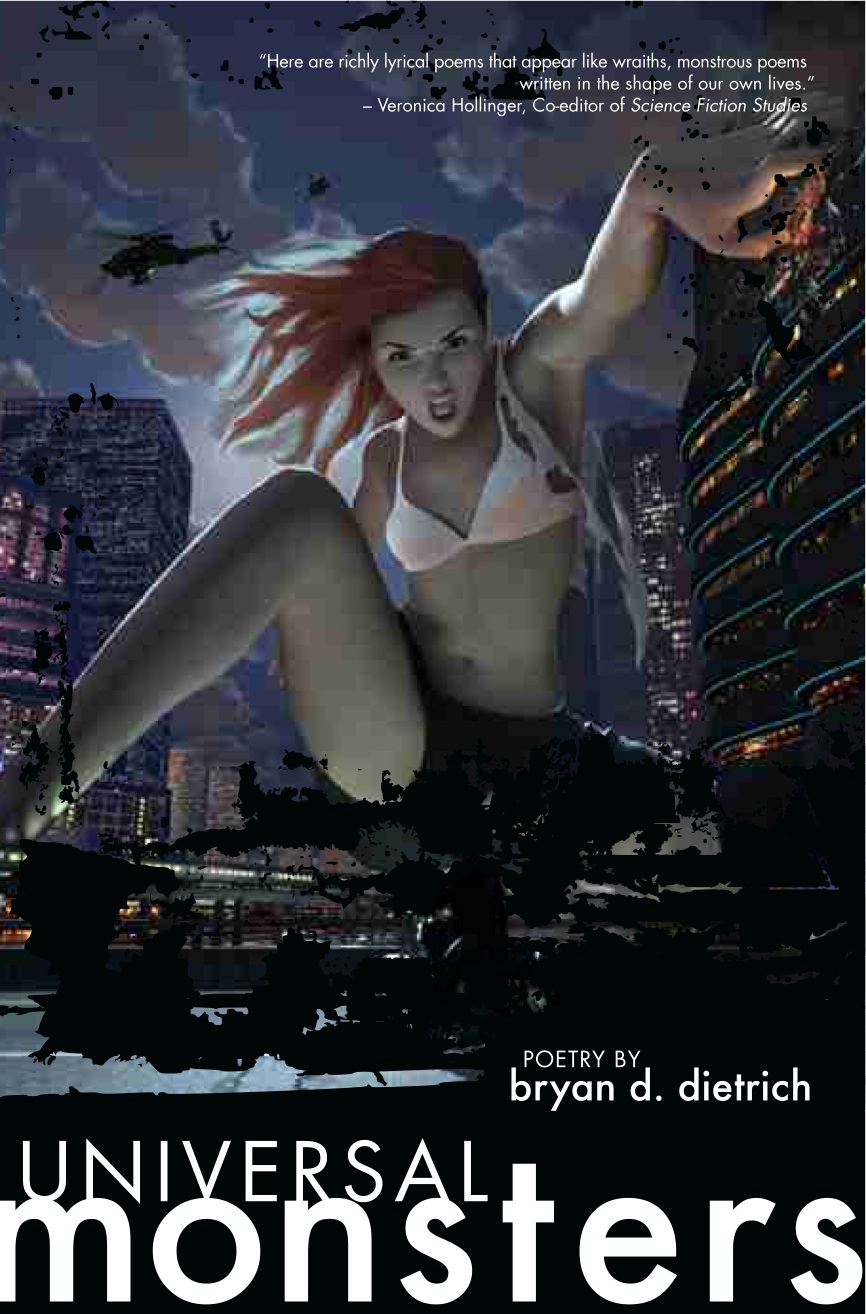 Universal Monsters, Bryan Dietrich's newest book, is much more personal than his first, the award-winning Krypton Nights. From boudoir to abattoir, from desire to dissolution to divorce, from The Bride of Frankenstein to Attack of the Fifty Foot Woman, this is a book that engages monsters, yes, but also the everyday human traumas that rend.
Sample Poems by Bryan Dietrich
"No one writing today is as adept at twining popular and high cultures, or as skilled at shifting--mid-line--from colloquial to grand style. With characteristic wit, humor, and astonishing craft, Bryan Dietrich has provided yet another volume in which what is human becomes all the more visible via fantastic avatar." --Scott Cairns, author of Recovered Body
"In this most serious and compelling monster book, Dietrich uses films and legends--from Frankenstein to It Came from Outer Space, from the Yeti to Sasquach, from Loch Ness to Skull Island--to show us that the monster is primarily a metaphor for what Faulkner called 'the human heart in conflict with itself.' Cursed and blessed with its sense of alienation and desire, it longs simultaneously for the hearth and for the outlands, for the pure and for the perverse, for life and for oblivion. Thus the heart also becomes its own haunted house, as can its correlate, the family. 'Too bad real life doesn't come with danger music,' the speaker in 'B Movie' observes. But the hauntings here are real, and the danger music bone-deep and beautiful." --William Trowbridge, author of the Complete Book of Kong
"Bryan Dietrich's astonishing new collection Universal Monsters clearly establishes him as one of the most imaginatively resourceful and mercurial young poets writing today, a voice capable of dressing down the extremities of horror, of rendering it more approachable, intimate, funny at times, and yet for all its ironies something to own, embodying a whole range of feeling characteristically denied the gothic. And what a monstrous universe he inhabits. Everywhere we look in these poems, we see a voracious intelligence, replete, curious, quick, generous with its attentions, yet boldly reinventing the traditions it honors, sustaining its engagements with a lust for the sumptuous phrase, formal pleasure, and unlikely detail, unnerving, perhaps, but likewise charged with a certain reverie. This reverie is the other face of generosity. Here the play of the mind is so alive, the book's dark has a kind of shine." -- Bruce Bond, author of The Throats of Narcissus
"The craft of Bryan Dietrich's Universal Monsters is impeccable--dense, elegant lines polished free of any excess. Yet the sensibility shaping those lines owes more to Ed Wood than Wordsworth. Though its tropes come from B-movies and other escapist fictions, Universal Monsters isn't about getting out, it's about getting in. Into the intimacies of family and identity, into the mysteries that baffle us and defy explanation, into the endless wonder of physical existence. Universal Monsters is not for the faint of heart." --Marta Ferguson, former poetry editor for The Missouri Review
"There's a remarkable scene in the classic Frankenstein film, where Karloff's creature gently hands a little girl a flower. This book is like that flower: a gift that reminds us of the humanity of monstrosity (as well as the universal monstrosity of humanity). Dietrich is a virtuoso of shape and structure, plumbing the profound depths of this metaphor. I can think of no other writer who bridges lyrical forms with genre material so artfully, wringing significance out of the neck of every word. Universal Monsters is an amazing accomplishment." --Mike Arnzen, winner of the Bram Stoker Award
Bryan D. Dietrich lives in Wichita, Kansas with his wife Gina and their son, Nick. Professor of English at Newman University, Bryan has won the Paris Review Prize, the "Discovery"/The Nation Award, a Writers at Work Fellowship, the Isotope Editors' Prize, and the Eve of St. Agnes Award. A five-time finalist for the Yale Younger Poets Series, Bryan has been nominated for both the Pushcart and the Pulitzer. His poetry has appeared in The Paris Review, Ploughshares, Prairie Schooner, The Harvard Review, The Yale Review, The Nation, Shenandoah, Weird Tales, Asimov's Science Fiction, and many other journals. His first book, Krypton Nights, was published in 2002.
ISBN 978-1933456911, 156 pages, $18.00