Lamentation with June Bug, Poems by Nancy Esposito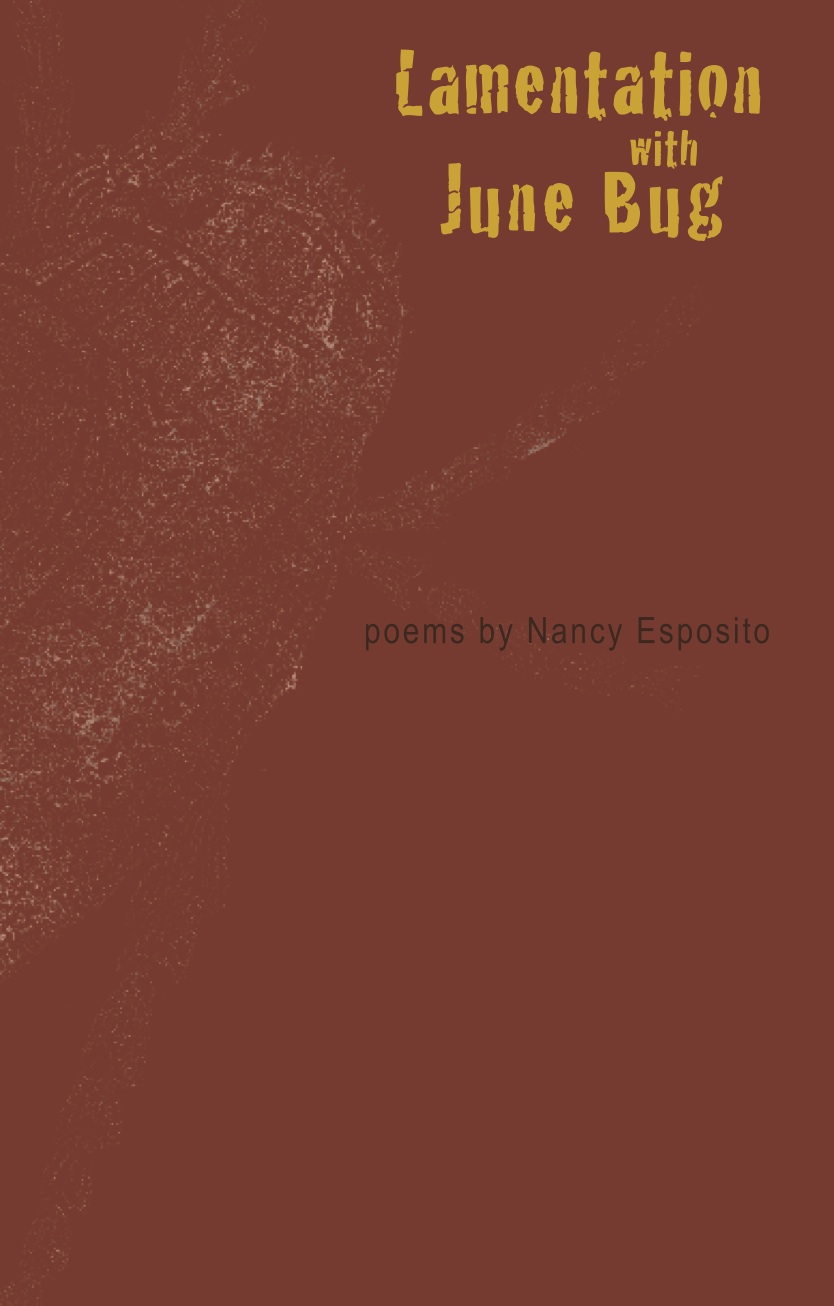 There is a density to the poems in Nancy Esposito's Lamentation with June Bug, a palpability in the rhythm and sounds of the lines that give her stanzas a solidity that evokes the world itself, what "we loved without letting go."
Sample Poems by Nancy Esposito
"The poet leans over her cat, giving him mouth-to-mouth resuscitation before he's rushed to the hospital. She discovered in this act 'a universal: breathing/is not an extra the way a kidney may be/or a limb. Nor is love, even this/stubbed, unskilled, blundering love.' This is not a book of extras, but of essences. It is a book of traumas: losses of marriage, of lovers, of friends, and finally of parents (mother, first to dementia and then to death.) These losses are hers and her generations's: among them, that of a fellow Vietnam War scholar who kiled himself in Kentucky, trapped by the ugly violence of Khe Sanh, 1968. A book both difficult and necessary to read, it is 'a love poem/...to the gorgeous chaos you [and you and we] have become."--Susan Schultz
"Salida is the Spanish word for exit. It is also the word that marks the beginning of the tango, and tango is at the aesthetic heart of Nancy Esposito's Lamentation with June Bug. These poems sweep across years and regions of life with sharp, passionate, and precipitous turns, all the while testing the strength of our capacity to hold on to one another. And as in the tango, the desire to connect is shadowed by its opposite: losses, sorrows, and mortal terrors. Yet Esposito's lamentation comes with a June bug, a sense that the dance of life goes on despite its inevitable suffering. These are the poems that invite you onto the floor and into the music: salida."--Fred Marchant
"Nancy Esposito, in these sustained sighing poems, is in it for the long game. Every long line is an event horizon. See the sea writing in long hand! There are endless highways, vectors vectoring from here till kingdom come, a time and a place at odds even with the odds. That endless, infinite line forms smack dab in the middle of nowhere and runs its course, a mobius, in the heart of the heart, warped and wonderful, a parenthetic parenthesis, the periodic morphoed to ellipses..."--Michael Martone
Nancy Esposito has published three previous books of poems. She is the recipient of several awards and grants, including the Discovery Award, a Poetry Society of America Award, and a Massachusetts Arts Lottery Award as well as a Fulbright Grant, an NEH, and several grants from Bentley University to Vietnam, Cambodia, Thailand, and Laos.  Her own work as well as translations of Nicaraguan poets has appeared in numerous American journals and magazines.  Her own poems have been translated into Spanish and Vietnamese.   She was born in Dallas, Texas, and educated at New York University.  She has taught writing at Harvard, Tufts, and Bentley Universities.
ISBN: 978-1625490605, 86 pages, $18.00