Earthquake Season, Poems by Jessica Goodheart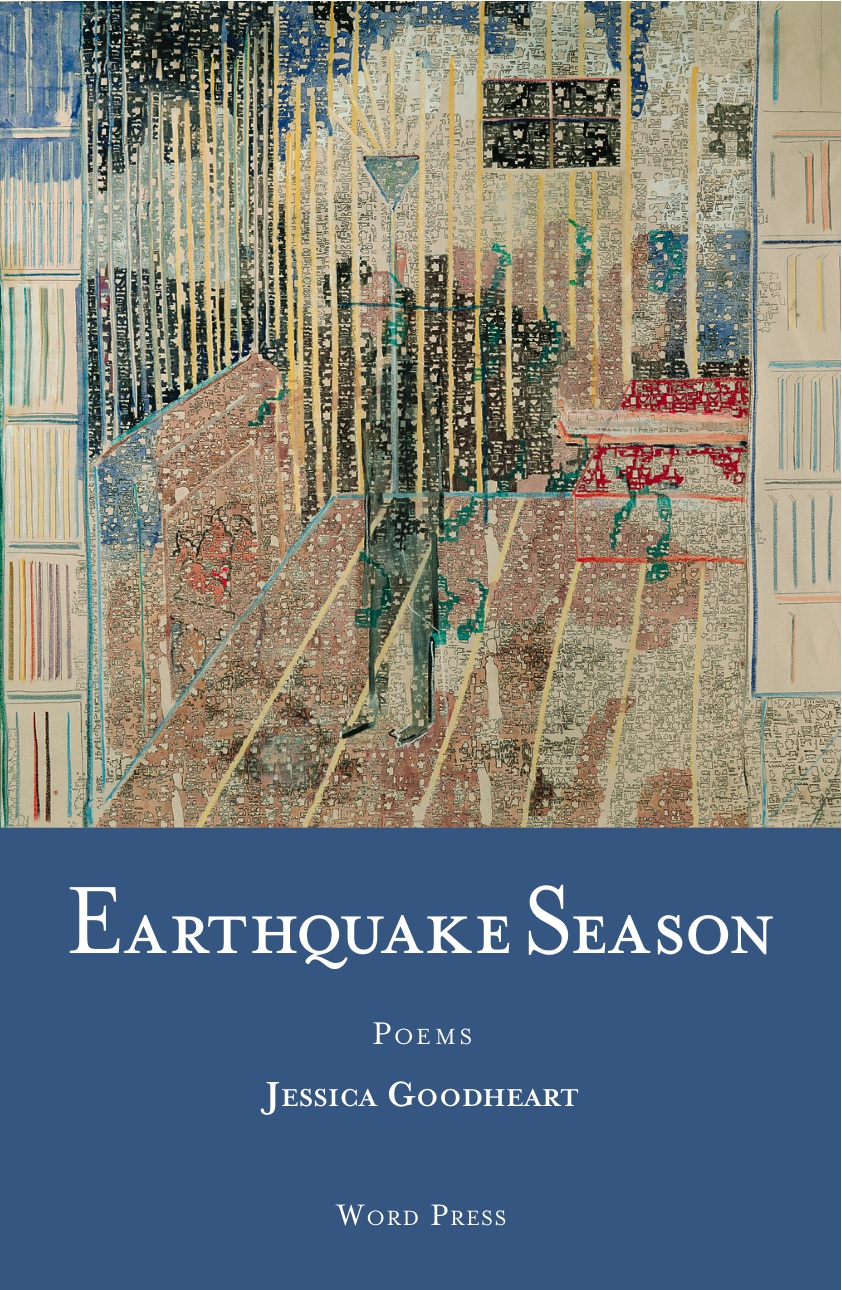 With meticulous precision, Jessica Goodheart's Earthquake Season traces the faultlines of everyday experience, searching for the seam that can shake us out of our complacent world into a new, enlarged awareness.
Sample Poems by Jessica Goodheart
"Like a dream of flying confidently through a landscape, the poems of Jessica Goodheart, exuberant, exhilarated, yet so aware of the tremors of the landscape below, make their stunning debut in Earthquake Season. With craft and grace, with whimsy and vibrant emotion, Goodheart navigates her mystification at how things are they way they've come to be. From supermarkets to Xerox machines, x-rays to tombstones, seismometers to dry cleaners, Goodheart moves us, delights us, provokes us to re-experience the surreal family of ordinary things that seize up with meaning and that create metaphors for our harrowing lives."—Molly Peacock
"What's most remarkable in Jessica Goodheart's first collection is her ability to unfold a witty, often wildly inventive account of life in contemporary urban America together with a clear-eyed realism and deep social-conscience. It's why this book includes poems such as 'A Day Shopping for Lamps,' in which 'The chandelier is a bride/in an emptying banquet hall, drunk on her own dazzle,' and one called "Ten Cars Veered Off the Freeway and Up My Leg,' alongside poems quietly mindful of the urban poverty before her and a great, unnamed war that rages, in another land. What a paradoxical, passionately interesting mind Goodheart has, and what a fine debut this is for a new Los Angeles poet."— Suzanne Lummis
"Jessica Goodheart is a poet of remarkable wit, intelligence, and vision. The poems of Earthquake Season are impressively wide ranging. Here are tender yet decidedly unsentimental poems about family history, marriage and motherhood, unflinching poems about illness, and harrowing, memorable poems about the challenges of life in contemporary Los Angeles. Goodheart has Jane Kenyon's gift for the poetry of ordinary life, Sylvia Plath's uncompromising eye, and Adrienne Rich's courage, wisdom, and sensitivity to social injustice. What distinguishes Goodheart's poems is her unwavering capacious and humane gaze at the world, and her ability to take on difficult subjects with warmth, humor, and imagination."—Deborah Landau
Los Angeles poet Jessica Goodheart was born and raised in Boston, Massachusetts, attended Columbia College, and earned a Master's degree in urban planning from the University of California, Los Angeles. She's worked as a park ranger, a telemarketer, a journalist and, for the past 13 years, as a researcher for an advocacy organization dedicated to building a fair economy. Her work has appeared in The Best American Poetry, The Antioch Review, Blue Arc West: An Anthology of California Poets, Mudfish, Salamander, Cider Press Review, Pearl and other journals. Her poems were featured in the Poetry in the Windows exhibit, sponsored by the Arroyo Arts Collective in Los Angeles. In 1999, she was selected to read in the annual Newer Poets series, sponsored by the Los Angeles Poetry Festival and Beyond Baroque.
ISBN: 978-1934999974, 84 pages, $18.00