Fishing at the End of the World, Poems by William Greenway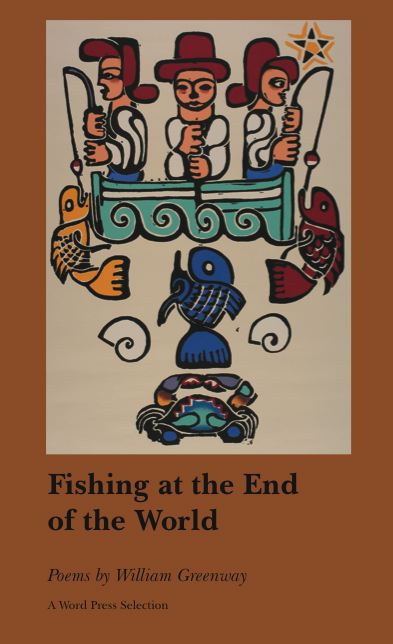 Fishing at the End of the World continues William Greenway's affectionate yet knowing conversation with the world. Greenway is not afraid to laugh, to find moments of humor and irony in experience; yet he does so always with an eye for the dark, tragic undercurrents of those experiences. The deceptively light surface of his poems is borne up by a deep, weighty foundation.

Sample Poems by William Greenway

"Reading William Greenway's new book is a little like watching Hamlet played by Henny Youngman, tragedy in the vernacular of vaudeville. Though the beginning of 'Take My Life, Please' reminds us that 'They say everything funny has something / tragic behind it,' the opposite is equally true, as even some of the titles make clear: 'Beelzebubba' or 'It's My Karma, and I'll Cry If I Want To.' Yes, there are heartaches and bad health and elegies here, but the book has enough detours and convergences to keep any reader both surprised and satisfied. Among other things, the poems cover the clinging flimsiness of popular culture; God in His many guises and habitats, from Canterbury Cathedral to the First Baptist church in Biloxi; and the trapdoors and false bottoms lurking in language. In Greenway's poetry, we find the amiable stoicism of a fisherman who never knows what he'll reel in when he casts his lines into deep water."—Elton Glaser

William Greenway's other books include Ascending Order, from the University of Akron Press Poetry Series, from which also came I Have My Own Song For It: Modern Poems of Ohio, which he co-edited. His poems have appeared in Poetry, American Poetry Review, Southern Review, Poetry Northwest, Shenandoah, and Prairie Schooner. He has won the Ohioana Poetry Award, the Larry Levis Editors' Prize from Missouri Review, the Open Voice Poetry Award from The Writer's Voice, the State Street Press Chapbook Competition, an Ohio Arts Council Grant, and was 1994 Georgia Author of the Year. He is Professor of English at Youngstown State University, where he has been awarded Distinguished Professorships in both Teaching and Scholarship.
ISBN 1932339604, 112 pages, $17.00