Midnights in My Mending Room, Poems by Martha Deborah Hall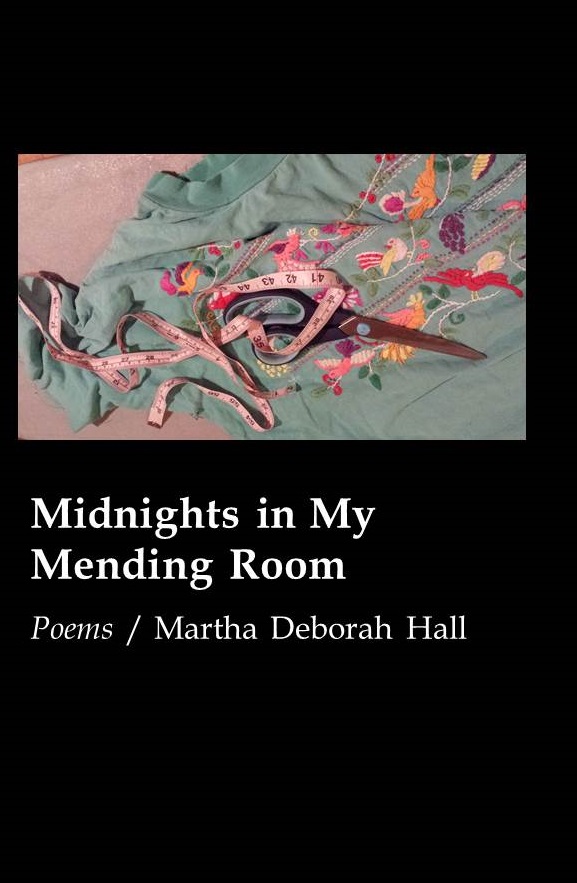 The poems of Martha Deborah Hall's Midnights in My Mending Room tarry over memory and experience, finishing a stitch here and a seam there, crafting a seamless whole from the fabric of a life.
Sample Poems by Martha Deborah Hall
"What a unique and fresh mind! Martha Deborah Hall is able to take seemingly disparate images and weave them together in ways that in the end stretch into total sense and touch your soul in its deepest places. Mud prints and church bells, sunflowers and glass children combine to speak to the reader about love, loss, joy, sorrow, faithfulness, truth, and authenticity all with dashes of humor and self-awareness. Martha's poems pluck at your heartstrings as they challenge you to dig into your own loves, losses, and growing edges. Irreverent and spiritual, deep and delightful!" -Sherry Jennings
"Deborah Hall's poems and short prose pieces reflect a life of peace. Unlike most poets she avoids abstractions. She has wit for example her poem about Yalies. She was told to marry somebody from from Yale not Harvard. She looks upon her garden with unpretentious language. This selection of insightful observations is worth preserving."-Nancy Wogan
"Martha Deborah Hall holds grief in her hands as a cut crystal ball, alert to how slivers reside in tucked in places in our beings. Her word patterns of beauty emerge radiantly from the grinding and polishing of life. These poems invite you to abide in the past, present, and future and to choose to 'sort and pair your socks in life,' to move from the midnights to the mending."-Ruslyn Vear, Librarian, Amherst Town Library in Amherst, NH
Martha Deborah Hall's poems appear in numerous national journals including, Bellowing Ark, Common Ground Review, Las Cruces, Old Red Kimono, Tale Spinners, Tapestries, The Poet's Touchstone and Watch the Eye. She is the winner of the 2005 John and Miriam Morris Chapbook contest for her collection Abandoned Gardens. The Garbo Reels chapbook was published by Pudding House Press. Plain View Press published three books, Two Grains in Time and My Side of the Street in 2009 and Inside Out, published and nominated for a Pushcart Award in 2011. In 2012 D-N Publishing published White Out, Hall's book on suicide and drugs. Hall's fifth book, Heading Toward Silver Dust has been published in 2012 by Plain View Press. In October, 2013, Finishing Line Press published Hall's chapbook titled Mooring Lines. Also, in 2013 Plain View Press published Hall's book titled, The Weight of Light. Hall was honored by the New Hampshire Poet Laureate to be one of NH's featured poets. She is a member of the Manchester New Hampshire Poets Unbound group. She is a member of the Academy of American Poets and The Poetry Society of New Hampshire and the Monadnock Writer's Group. She is a past President of the Amherst Junior Women's Club, was the Amherst Chairman for Ronald Reagan's bid for the presidency and was Communications Director for Alexander Haig when he ran for President. Hall holds degrees from Ohio Wesleyan University (Class of 1963) and Columbia University (Class of 1967) and is presently a Realtor with Coldwell Banker in Amherst, NH. Hall's books may be purchased through Barnes and Noble and the Toadstool Bookstores in NH and through her various publishers.
ISBN: 978-1625492562, 110 pages, $19.00