New Haven, Poems by Martha Deborah Hall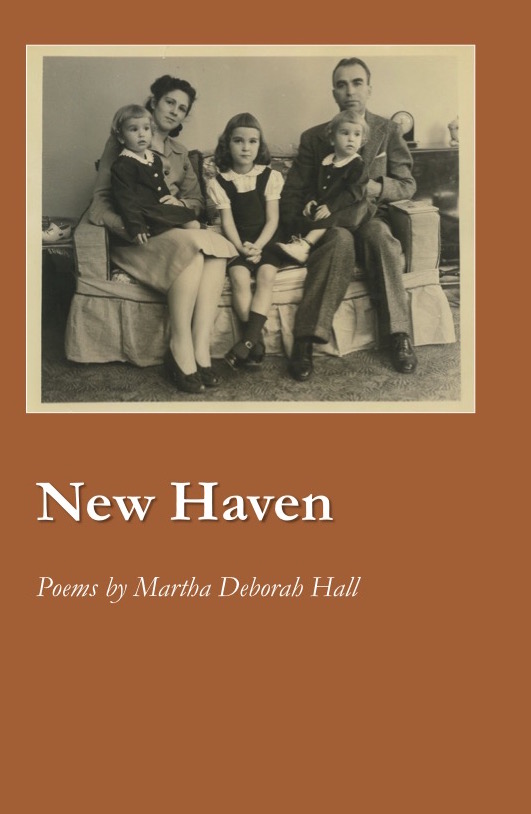 Elegy shades into meditation on the present in Martha Deborah Hall's moving New Haven.
Sample Poems by Martha Deborah Hall

"'Nothing replaces absence,' a line reads in Martha Deborah Hall's ninth full-length collection, New Haven, yet poem after elegiac poem belies that statement. As she explores the early loss of a mother to suicide (which leaves Hall and her twin sister 'like candles snuffed out after the party') or the 'overwhelming silence' in the wake of that sister's later death to cancer, she hammers and tempers each poem with exquisite craftsmanship until it carries the essence of what has been lost, the presence that remains in the absence. A must-read!" -Kate Gleason
"Get your markers out for your favorite passages. You have a new book of poems, New Haven, from Martha Deborah Hall. She joins words that have not been together before. Words that evoke thoughts, you've never had before. In 'Photo Drift', the poem describing the cover picture, the quote of Franz Kakfa is brought to mind. 'I think we ought to read only the kind of books that wound and stab us.'"-Elaine Bennett
Martha Deborah Hallís poems appear in numerous national journals including, Bellowing Ark, Common Ground Review, Las Cruces, Old Red Kimono, Tale Spinners, Tapestries, The Poetís Touchstone and Watch the Eye. She is the winner of the 2005 John and Miriam Morris Chapbook contest for her collection Abandoned Gardens. The Garbo Reels chapbook was published by Pudding House Press. Plain View Press published three books, Two Grains in Time and My Side of the Street in 2009 and Inside Out, published and nominated for a Pushcart Award in 2011. In 2012 D-N Publishing published White Out, Hallís book on suicide and drugs. Hallís fifth book, Heading Toward Silver Dust has been published in 2012 by Plain View Press. In October, 2013, Finishing Line Press published Hallís chapbook titled Mooring Lines. Also, in 2013 Plain View Press published Hallís book titled, The Weight of Light. Hall was honored by the New Hampshire Poet Laureate to be one of NHís featured poets. She is a member of the Manchester New Hampshire Poets Unbound group. She is a member of the Academy of American Poets and The Poetry Society of New Hampshire and the Monadnock Writerís Group. She is a past President of the Amherst Junior Womenís Club, was the Amherst Chairman for Ronald Reaganís bid for the presidency and was Communications Director for Alexander Haig when he ran for President. Hall holds degrees from Ohio Wesleyan University (Class of 1963) and Columbia University (Class of 1967) and is presently a Realtor with Coldwell Banker in Amherst, NH. Hallís books may be purchased through Borderís, Barnes and Noble and the Toadstool Bookstores in NH and through her various publishers.
ISBN-13: 978-1625491855, 102 pages, $19