Toward Any Darkness, Poems by Rick Mulkey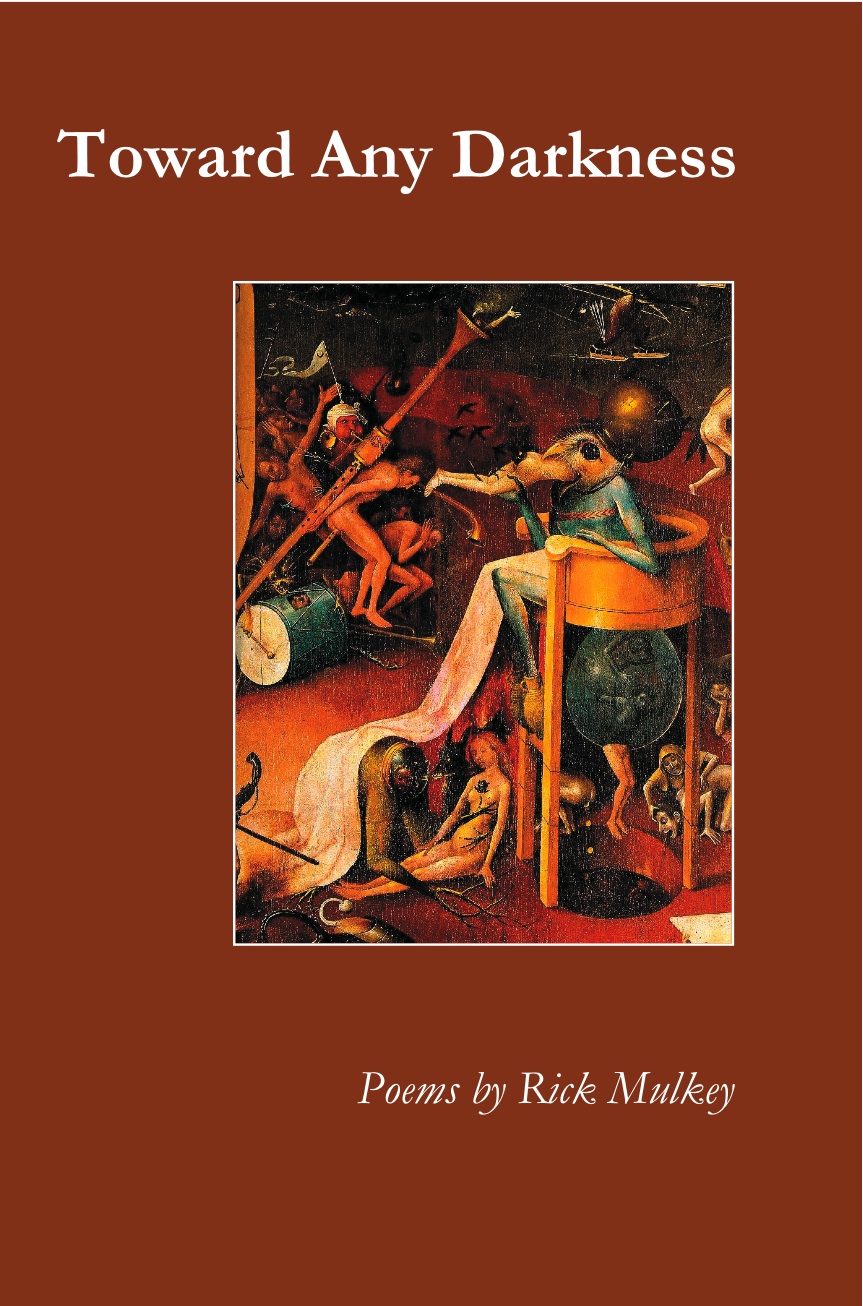 Rick Mulkey gracefully confronts the unknown in Toward Any Darkness, delving into the mysteries that lie beyond the light, determined to persist against fear and sadness to embrace life fully: "How can we resist waking?"
"In 'Field Theory,' Rick Mulkey writes, 'I know the universe is full / of what's unseen.' The beauty of the poems in this collection is their power to reveal that unseen with stunning clarity, connecting the galaxies with domestic bric-a-brac, the stars with a blade of grass, our deepest yearnings with the world around us."--Walter Cummins, Editor-in-Chief, The Literary Review
"Albert Einstein once wrote, 'Whoever is careless with the truth in small matters cannot be trusted with important matters.' Einstein, no doubt, would have trusted the important matters to Rick Mulkey, who marvels at what lies beyond the stars and what lies under the soil, who honors both the flesh and ghosts. Mulkey's faithful detail in the poems in Toward Any Darkness is gorgeous in its transformations, its quirks and quarks, capturing reality and beyond."--Denise Duhamel
"With each new book, Rick Mulkey's poems have become richer and deeper. Now, in Toward Any Darkness, he takes us to that middle ground between the phantasmal (miracles, psychics, alternative worlds, ghosts, UFOs: 'Some days I know my entire life / is an attempt to break the laws of physics') and the solid, textured evidence of the everyday: a sorghum field, a '73 Chevy, a child's turtle-shaped pool, the clasped hands of parental love. He takes us, I mean to say, to our own lives. And he allows us to reconsider them in language that's by turns luminous, wry, elegiac, celebratory, and sometimes just plain old luscious." --Albert Goldbarth
Rick Mulkey is the author of three previous poetry books and chapbook s, including Bluefield Breakdown (2005) and Before the Age of Reason (1998) .Among his awards are a Hawthornden Fellowship for a writing residency in Edinburgh, Scotland, and the Charles Angoff Award from The Literary Review. He has taught creative writing and American literature at a number of colleges, universities and writing workshops. Most recently he directed the MFA Creative Writing program at Wichita State University, and he currently directs the creative writing program at Converse College in Spartanburg, SC.
ISBN 978-1933456737, 80 pages, $17.00