Borrowed Towns, Poems by Richard Newman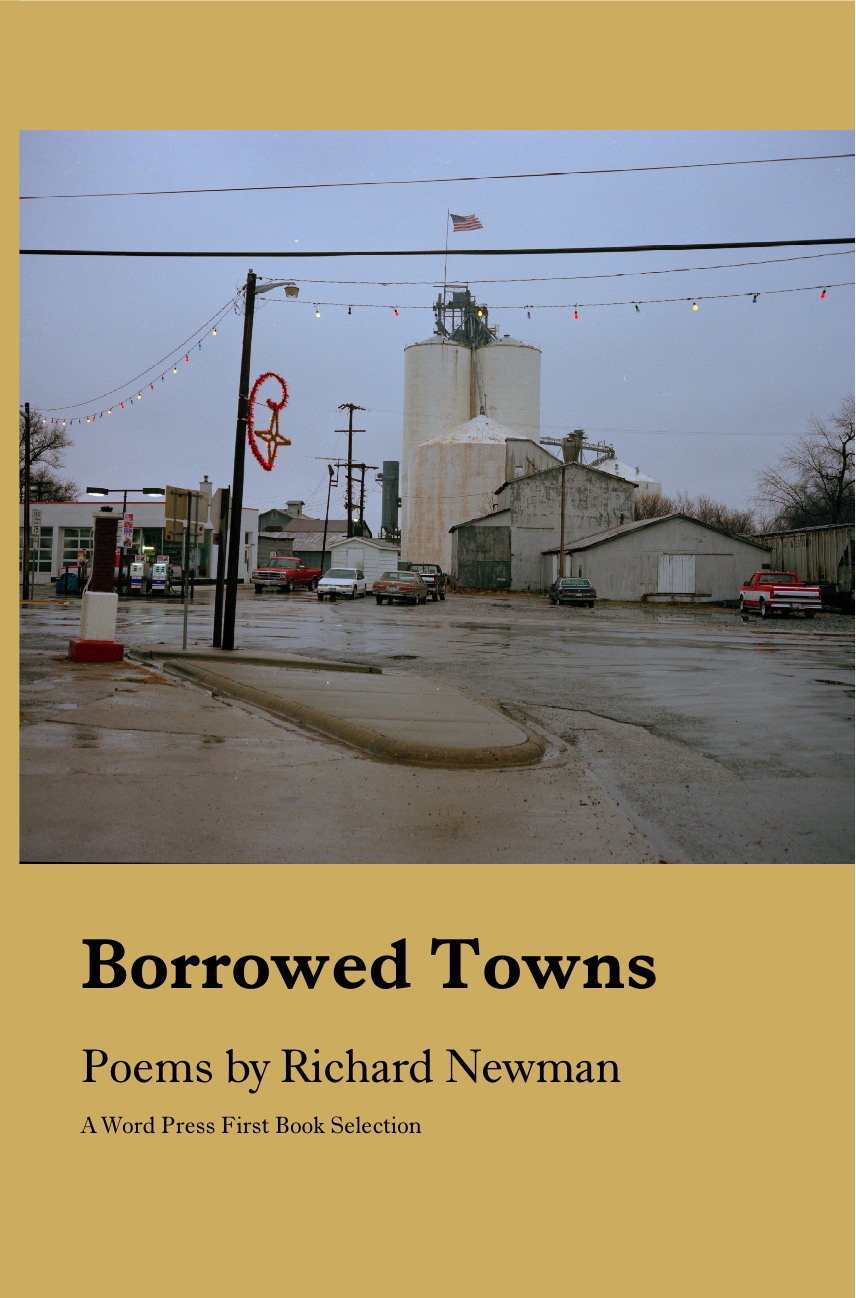 The tough, mournful, and celebratory poems of Borrowed Towns establish Richard Newman as a kind of Midwestern seer: one who sees through the gritty surfaces of things to the enduring beauty below.

Sample Poems by Richard Newman

"Yes, it is possible to write poetry with both heart and edge. Richard Newman proves it with his stunning debut volume, Borrowed Towns. He applies his unique brand of savage humor and laconic aplomb to all the perils of Midwestern manhood, from lost love to found romance, from coming of age to fatherhood. Already one of our most skillful prosodists, he whets the blade of American diction, flourishing new rhythms for an upcoming generation. Newman is a poet to watch: gifted, gimlet-eyed, and brave."—Molly Peacock

"Even the monsters of Richard Newman's borrowed towns—his Bigfoot, Mothra, Cyclops, vampire—partake of everyday hopes and befuddlements, and so exist in the same terrain that we do, half-way between the marvelous and the mundane. Newman has ably set up camp in that land, and his poems (whether formal or unjacketed, comic or poignant) remind us constantly of the everyday magic where, for example, a simple handful of spare change is transformed into 'dirty charms/ chiming in the dark pockets of the world.' It's the everyday magic of Neruda's odes to the everyday objects of his life: read Newman's book 'Tastes Like Chicken' to experience that same wonder."—Albert Goldbarth

"If Robert Frost had moved, as a child, to southern Indiana in the late twentieth century instead of Vermont in the late nineteenth, he'd have sounded like Richard Newman. The characters in the book Tastes Like Chicken (Snark Publishing, 2004), even the dead and buried ones, come alive—they're not the psychic punching bags of 'confessional' poetry, or the saints and villains of 'political' poetry, but real, sad, off balance, and—let me say it—loveable characters of good fiction (and good poetry, provided Robert Frost wrote it). As a bonus, Tastes Like Chicken is funny as hell. This book isn't just readable, it's re-readable."—Richard Cecil

Born in Illinois, raised in Southern Indiana, and now living in St. Louis, Richard Newman is also the author of several chapbooks, including Greatest Hits(Pudding House, 2002), Tastes Like Chicken and Other Meditations (Snark Publishing, 2004), and Monster Gallery: 19 Terrifying and Amazing Monster Sonnets! (Snark Publishing, 2005).
His poems, stories, and essays have most recently appeared in American Literary Review, Boulevard, Crab Orchard Review, 5AM, The Laurel Review, Meridian, StoryQuarterly, The Sun, and many other periodicals and anthologies.
He earned his MFA at the Brief-Residency MFA Writing Program at Spalding University. He teaches at St. Louis Community College, reviews books for the St. Louis Post-Dispatch, and, for the last ten years, has served as editor of River Styx.
Visit Richard's website at www.vacuumpacked.net.
ISBN 1933456019, 84 pages, $17.00