To Sleep with Bears, Poems by Steve Nickman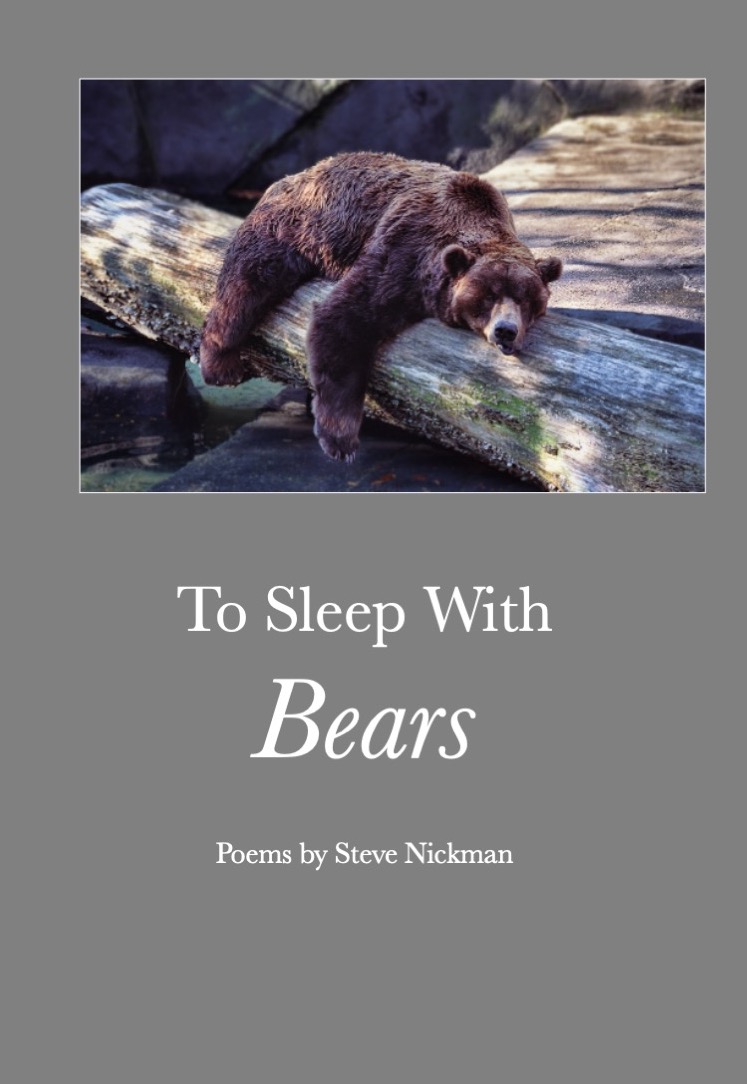 These poems are about praise and amazement, as well as connection and the loss of it. They are about food, childhood, hiding, loneliness, small and large animals, and despair. They are about losing courage and regaining it, our capacity for good and evil, and finally about knowing that we won't live forever.
"To Sleep with Bears is to enter the 'cave of the mind,' journeying within to explore the vulnerabilities of the human heart. You will be accompanied by a poet gifted at translating the distances, intimate signs, and unspoken words that hover and quicken between couples and strangers, and the telepathy that convinces us of our deep connection with our fellow creatures. Inhabiting Nickman's world are cats, moose, spider, parrot, and three squirrels; a poem written by a mouse; a peaceable lion in the poet's mind, who speaks in parable and longing; dream-dogs that 'barked for my today'; and a forgiving firefly 'in the tangles of whose fault-is-it.' Curl up in a chair with this beautifully crafted collection. Wander into wonder."-Wendy Drexler
"To Sleep with Bears is an articulation on humanity's movements and self-realized interactions. I love how Nickman's poetry magnifies the spaces I would never think to speculate. His poems 'urge toward interior' creating a profound expression of his encounters- the milestones, as well as his everyday. This collection is a composition of observation, a record of events told in every poetic device-formal, fable, persona, personal, antic- each one a detail of a world I won't forget."-Alexis Ivy
"To Sleep with Bears by Steven Nickman is a passionate, uplifting collection of poems spanning a lifetime of love and loss and wonder, and brimming with elegant elegies and a whimsical exuberance for the everyday. 'Mine, to pour the seed in / for these airborne pilgrims, / observe wing-beats, position, / to watch, to listen.' These poems, some lyrical, some narrative, are both insightful and wise."-Grey Held
"Steven Nickman's poetry grasps at the reader like wild vetch about the leg in an old, abandoned field. The binding this brings about slows movement and facilitates reflection, however Nickman's writing also compels one to closely observe and contemplate the spindly plant itself and what might be appreciated by way of its presence. Its existence. Here. Ably demonstrating his craft, Nickman's work adeptly manouvers through topics that span the human and non human condition and experience. With a gift of keen observation and possessing an active mind and a life of varied and fascinating experiences, religious traditions, astronomy, psychiatry, childhood, child-parent relationships, nature, animal friendships, space, time, loss, expectations, desires, romantic love, couple-hood, parenting, child rearing, emotions, and personification are themes that are made all the ever more poignant through Nickman's creative and encaptivating approach to expressing the inexpressible."-Lewis MacKinnon
Steve Nickman is an almost-retired child psychiatrist in Brookline, Massachusetts. In 2006 he joined Barbara Helfgott Hyett's workshop and learned that much of what his patients had to say was poetry. Working with adopted children has given him insight into the feeling of lost connection. He enjoys learning foreign languages but is fluent in none, and he plays the piano when no one else is present. He is married, has two sons, and hopes for grandchildren.
ISBN 978-1625494061, 110 pages