Patterns: Moments in Time, Poems by Carol Smallwood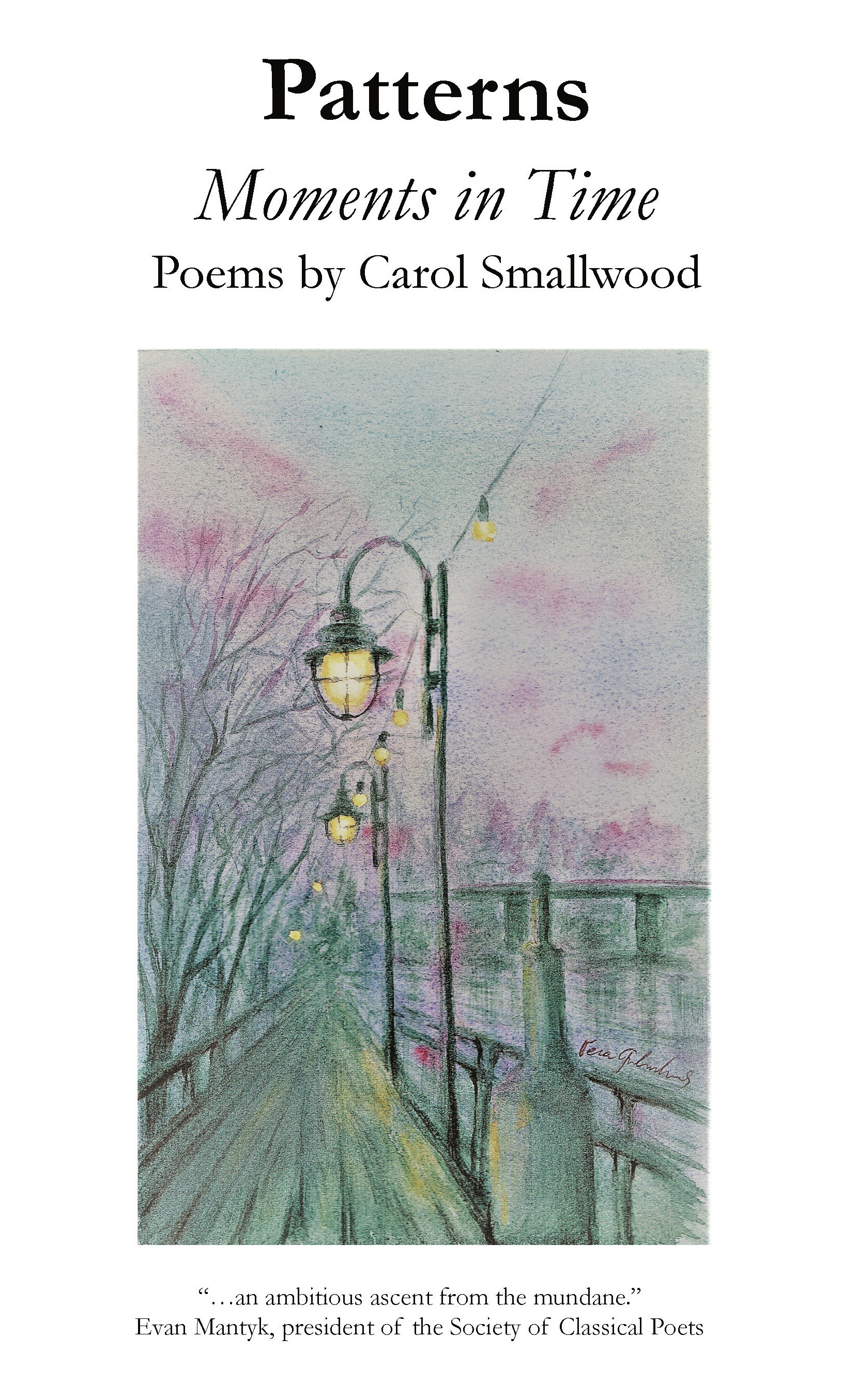 Carol Smallwood expertly searches out connection—in time, in memory, in the world—and her intricate, textured lines fashion beautiful wholes out of these constituent parts.
Sample Poems by Carol Smallwood
"Myth, history and fairy tale are spun anew at Smallwood's wheel." --Joan Gelfand, development chair, Women's National Book Association
"A wonderful exercise in poetic mindfulness, Smallwood's poems captivate the reader as they delight in life's small moments, knowledge, and sensations." --Heather Beirne, Eastern Kentucky University Libraries
"Smallwood's use of science gives a larger scope to her works, demonstrating an ambitious ascent from the mundane." --Evan Mantyk, president of the Society of Classical Poets
"Smallwood's poetry elicits the beauty and joy of everyday miracles, from dust to dandelions, laundry to leaves, and asks the simple questions that humans ponder in quiet amazement of our shared world." --Diana Lennon, Greenburgh Public Library, New York
"Patterns: Moments in Time allows you see the patterns of life in a whole new way." --B. Lynn Goodwin, managing editor, Writer Advice
"These selections are alluringly, deceptively simple; refracted through a perfect plain style and troubadour forms, Smallwood's natural and domestic images gently shift our everyday consciousness deeper into feeling, thought, and vision." --Patricia Brown, Northwestern State University of Louisiana
"Carol Smallwood's poetry reignites the feeling of awe in the mundane." --Steve Glines, editor-at-large, Wilderness House Literary Review
"This collection inspires wonder and entices us to explore the mystery and complexity in simple things." --Jennifer L. Dean, University of Detroit Mercy Libraries & Instructional Design Studio
"I love Smallwood's clarity: she slips between free form poems and demanding classic poems with ease that is so right, so comfortable." --Carolyn Howard-Johnson, award-winning author of Imperfect Echoes and other books and chapbooks of poetry
Carol Smallwood's over five dozen books include Women on Poetry: Writing, Revising, Publishing and Teaching, on Poets & Writers Magazine list of Best Books for Writers. Recent anthologies include: Writing After Retirement: Tips by Successful Retired Writers (Rowman & Littlefield, 2014); Bringing the Arts into the Library: An Outreach Handbook (American Library Association, 2014); Library Partnerships with Writers and Poets: Case Studies (McFarland, 2017).
Recent literary collections include: Water, Earth, Air, Fire, and Picket Fences (Lamar University Press, 2014), Divining the Prime Meridian (Word Poetry, 2015);Interweavings: Creative Nonfiction (Shanti Arts, 2017);In Hubble's Shadow (Shanti Arts, 2017); Prisms, Particles, and Refractions (Finishing Line Press, 2017) was nominated for the 2017 Society of Midland Authors Award in Poetry;A Matter of Selection (Poetic Matrix Press, 2018);In the Measuring (Shanti Arts), 2018; Visits and Other Passages (Finishing Line Press, 2018) .
Carol has founded, supports humane societies. She's received multiple Pushcart Prize nominations and appears in Contemporary Authors Online: Biography in Context. She serves as a judge, reader, reviewer and interviewer. Carol Smallwood has been award the Marquis Lifetime Achievement Award for her work in writing, librarianship, and education. https://wwlifetimeachievement.com/2018/12/12/carol-smallwood
ISBN: 978-1625493057, 110 pages