Dream of the Antique Dealer's Daughter, Poems by Robin Smith-Johnson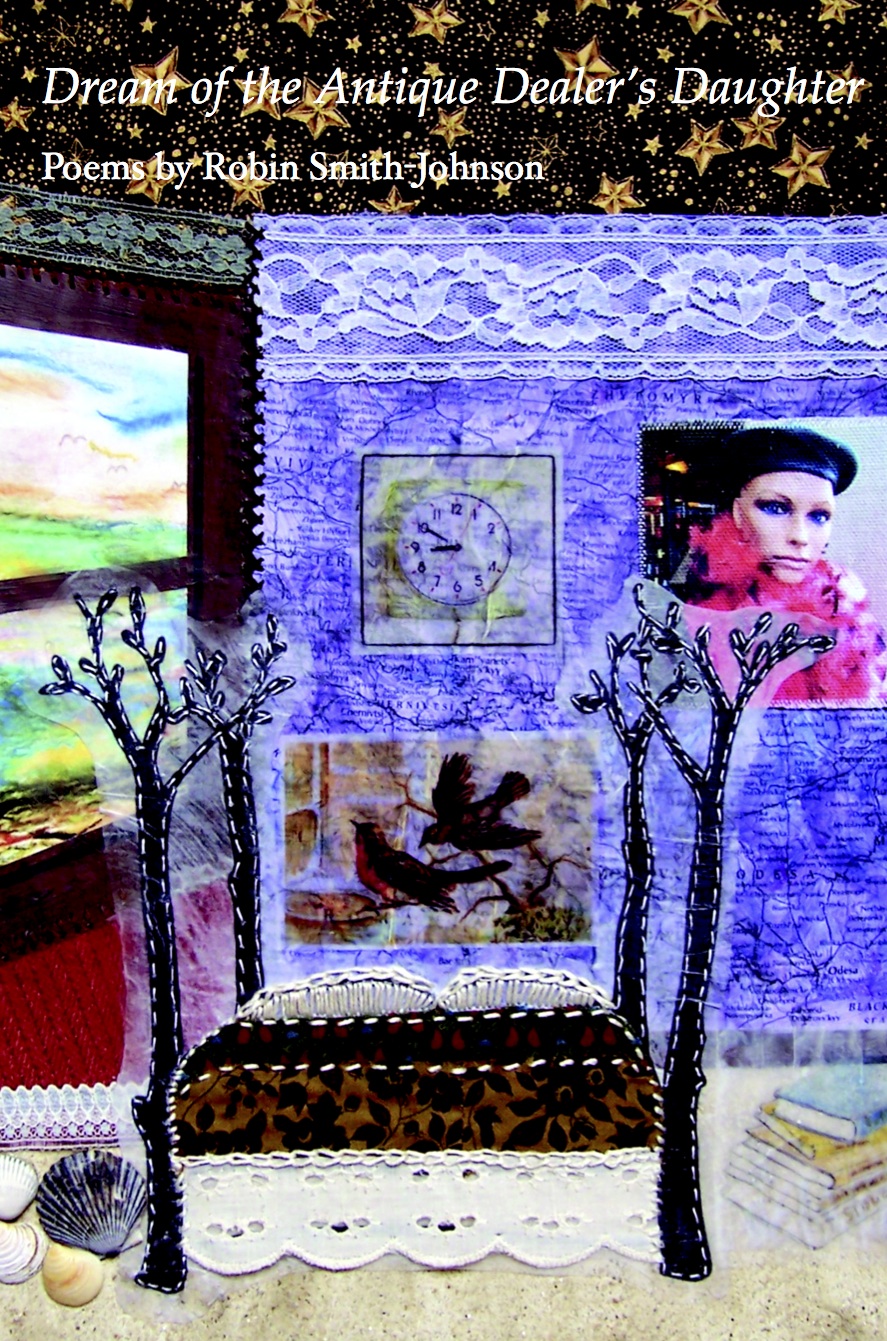 Dream of the Antique Dealer's Daughter by Robin Smith-Johnson explores themes of loss, longing, and imagination by using natural images to better convey her inner world. Her poetry grows out of a need to discover what is authentic and meaningful in human relationships. The poet seeks the universal by paying attention to the small, telling details of her life as a mother, wife, lover, and quiet observer.
Sample Poems by Robin Smith Johnson
"Robin Smith-Johnson's work is grounded in the concrete and is, at the same time, luminous and ethereal. She seamlessly joins our conscious and unconscious perceptions of the world in fresh and surprising ways.These are poems to linger over."-Sheila Whitehouse
"Find a cozy corner and open this book. The poems in Robin Smith-Johnson's first collection, Dream of the Antique Dealer's Daughter, draw the reader into a world of wistful longing. 'I cannot bring back/what has been taken away/All I can do is visit my life.' Travel with the poet as these dreamy memories evoke emotions we might recognize from our own private lives."-J. Lorraine Brown
"In her beautiful first book of poems, Robin Smith-Johnson tells the reader that 'There are four spaces in my heart:/ I could call them/ air, fire, earth, water;/ but I listen to the emptiness/ and hear: rage, betrayal, loss, despair.' Her poetry builds on letting go, pulling in and disappearing. Her words often times draw us images of women as mad, tired, assaulted empty vessels, all the while striving, hopeful, resilient, introspective and powerful. Her uses of water images are sad, brilliant and surprising and in poems like 'Peggy's Cove, Nova Scotia' and 'The Next Wave' their haunting last long after the last poem in the book is read. This manuscript provides treasures that force slow and patient reads. I found it fascinating how Smith-Johnson juxtaposes poems in her well-crafted sections. The grouping titled 'Once Upon a Time' holds Smith-Johnson's variations of English language nursery rhymes. Within that section, 'Gretel's Complaint' reminded me of a poem included in 'The Landscape of Dreams' titled 'To a Brother Traveling West.' Nicely done. This book is not a 'world of small things' but an adventure of great depth and insight."-Jacqueline Murray Loring
Robin Smith-Johnson grew up in Orleans, Massachusetts where she honed her love of reading and creative writing. She has degrees in English from Wheaton College in Norton, Massachusetts and Bowling Green State University in Ohio. Her poems have been published in various journals, including The Aurorean, CapeWomen, The Larcom Review, Sandscript, Voices International and Yankee Magazine. Currently, Robin works as the newsroom librarian at the Cape Cod Times and teaches at Cape Cod Community College. She is also a co-founder of the Steeple Street Poets of Cape Cod. Robin lives in Mashpee with her family.
ISBN: 978-1625490629, 110 pages, $19.00