Graffiti in Braille, Poems by Barbara Buckman Strasko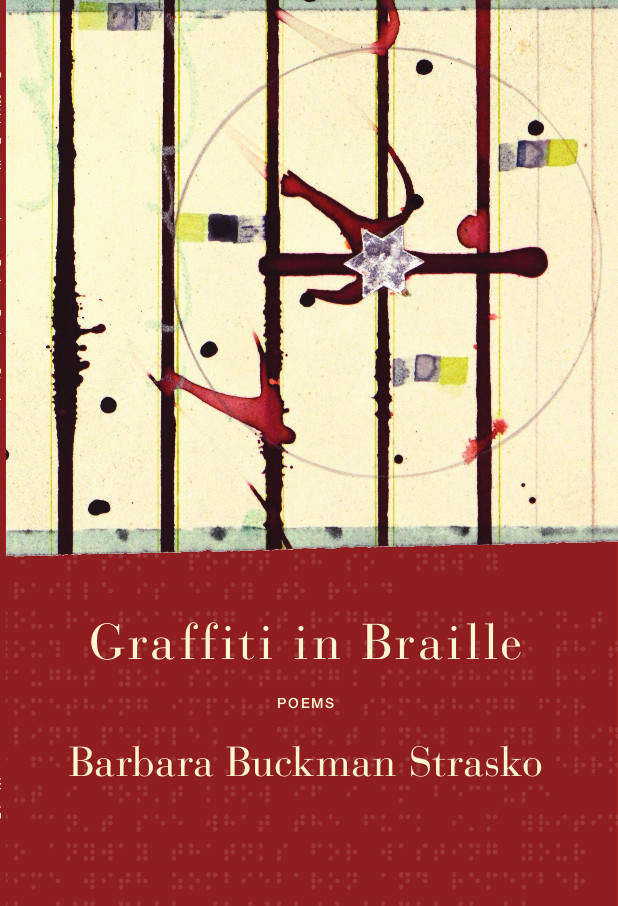 The lyrics of Barbara Buckman Strasko's Graffiti in Braille suggest a poet creating an art of extravagant, palpable physicality: a poetry that is best encountered through touch, textures and shapes that surpass literal meaning.
Sample Poems by Barbara Strasko
"Barbara Buckman Strasko's Graffiti in Braille celebrates being in this world, always with a keen eye on the smallest details, each magnified through the poet's precise, lyrical wit. Nature is at the apex of her vision where a quiet certainty reasons with longing. These poems converge with music, visual art, and history. Graffiti in Braille is full of intimate surprises."— Yusef Komunyakaa
"The poems of Barbara Buckman Strasko offer us the twin gifts of consciousness and conscience in the compassion they bear outward, refusing to insulate themselves from the world. The voice in these poems is that of a world citizen even in the most private of her meditations." —Leslie Ullman
"Barbara Strasko's gift for precise, sensory detail makes every poem in this first collection both a pleasure and a revelation. I also admire the way what's not said highlights what is said, as if in sculptural relief. Graffiti in Braille is an achievement that is sophisticated and counter-culture in the way that jazz is; the poems work by nuance and gesture and implication, by silence as well as by word and line. Barbara Strasko sees like an artist, listens like a musician, and writes like no one else." — Natasha SajÚ
Barbara Buckman Strasko is the first Poet Laureate of Lancaster County. She is the 2009 River of Words Teacher of the Year and is the Poet in the Schools for Poetry Paths in Lancaster city. Her poems have appeared in: Best New Poets, Rhino, Nimrod, Brilliant Corners, Ninth Letter, and elsewhere. Her chapbook On the Edge of a Delicate Day was published by Pudding House Press in 2008.
ISBN 978-1936370894, 80 pages, $18.00