Little Architects of Time and Space, Poems by Susan Nisenbaum Becker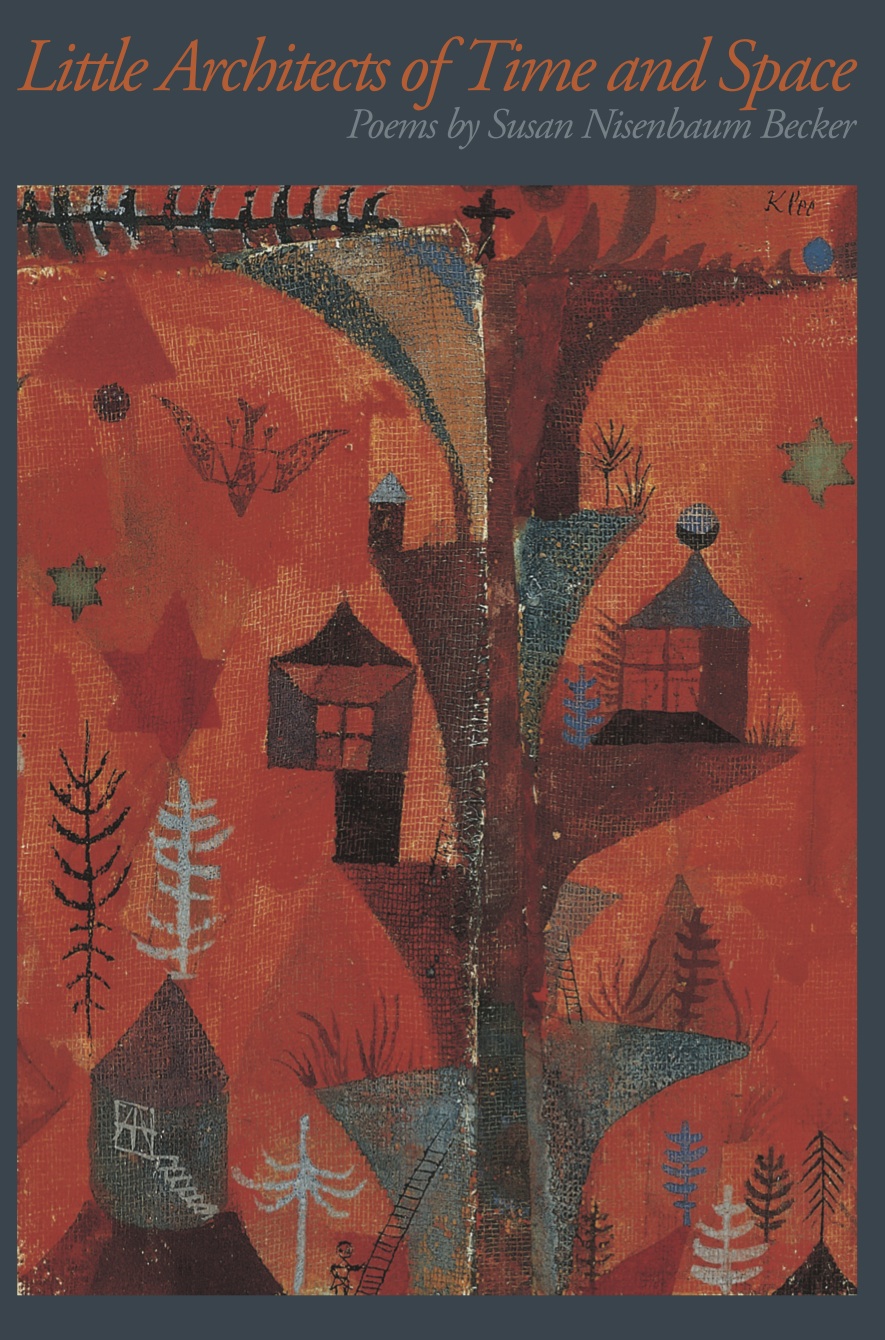 Larger awarenesses ripple ever more outward, and ever more inward, as the poems of Susan Nisenbaum Becker's Little Architects of Time and Space take their graceful shape.
Sample Poems by Susan Nisenbaum Becker
"From meditations on a female mummy, to watching American Idol with a woman struggling with cancer, the poems in Little Architects of Time and Space bear witness to the human condition. Susan Nisenbaum Becker is a master of both clarity, and generosity, for these are poems that show us ourselves, and love us in spite of ourselves. Indeed, Little Architects of Time and Space is not just a book that heals us, but wants to kiss 'the entire world at once'."-Kevin Goodan
"If one defines eroticism as the sensuality of awe and tenderness, then Little Architects of Time and Space is an erotic collection in the very best sense. These poems are the celebrational lyrics of the flesh: one's own, one's lover, that of the dead. With graceful recklessness, Nisenbaum Becker extends her lush reverence to the repugnant as well as to the beautiful. The panoply of creation that constitutes our world-a mummy from an ancient tomb, a swift coyote, a water lily, the intriguing growth of a cancer-are all cast in the same splendid, troubling light."-Frannie Lindsay
"'Now opens larger than before,' writes Susan Nisenbaum Becker, and one feels such expansiveness throughout this marvelously accomplished first collection. Here is a book of awakenings and immediacy, a book whose poems are brimming with a sense of the freshness of existence, in both its joys and suffering alike. Here too are poems that celebrate the ties that human beings forge between and among each other, and here are poems that lament the many ways those bonds can be severed. Above all these are poems that embrace experience in all its complexity, the feeling of having 'an ache / in me where humans might have wings."--Fred Marchant
Susan Nisenbaum Becker's poetry has appeared in Avatar Review, Calyx, Comstock Review, Consequence, Lumina, Phoebe, Plainsongs, Poetry East, Salamander, Comstock Review, Wilderness House Literary Review and Slipstream, among others. She is a playwright, actor, and arts organizer, receiving several Local Massachusetts Cultural Council Grants on behalf of the Herringrun ArtsFest which she cofounded and codirected. She has been awarded writing fellowships at Canada's Banff Center for the Arts, Yaddo where she held the Martha Walsh Pulver Residency, and the MacDowell Colony. Nisenbaum Becker is a teacher and psychotherapist in private practice. She lives in Middleboro, MA.
ISBN 978-1625490476, 86 pages, $18.00