Heart. Wood., Poems by Eric Torgersen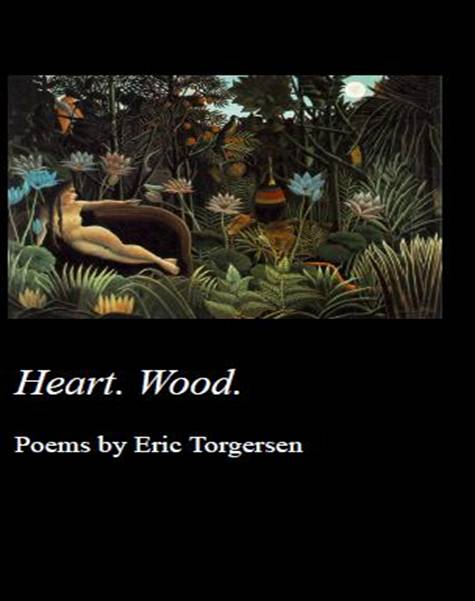 The poems in Heart. Wood. by Eric Torgersen touch the heart, with the solidity of wood: feeling merged with memory, with deep roots.
Sample Poems by Eric Torgersen
"Eric Torgersen's poetry has always been the real deal--no posturing or excess, just the pure, earned, emotional truth that the best poets offer us. Heart. Wood. mixes in some gems from earlier in his writing career while giving readers a healthy dose of what he's been up to in recent years. His eye is as sharp as ever, and his wry humor, and his sincere compassion. Tender, wistful, and sometimes heartbreaking, these poems are as honest and unflinching as anything out there today. Honest, as ever, as always."--Jim Daniels
"For a long time now Eric Torgersen has been searching for what James Wright called 'the pure, clear word' that might crystalize the poem and its truths. This memorable collection charts Torgersen's search--through old poems and new, through free forms and more structured rhythms--and shows just how close he has come. There are poems that show this poet's typically humorous self-deprecation, and others that capture small but important narratives or telling images. But, best of all, there are also poems that stand unashamed before their tentative wisdom."--Keith Taylor
Eric Torgersen has published poetry, fiction, essays and a full-length study of Rainer Maria Rilke and Paula Modersohn-Becker. He also translates German poetry, especially that of Rainer Maria Rilke and Nicolas Born. He was born in Huntington, New York. He has a BA in German Literature from Cornell University; after two years in the Peace Corps in Ethiopia, he earned an MFA in poetry from the University of Iowa. He retired in the spring of 2008 after 38 years of teaching writing at Central Michigan University. He lives in Mt. Pleasant, Michigan with his wife, the quilt artist Ann Kowaleski.
ISBN: 978-1936370795, 84 pages, $18.00