What Love Tells Me, Poems by Richard Waring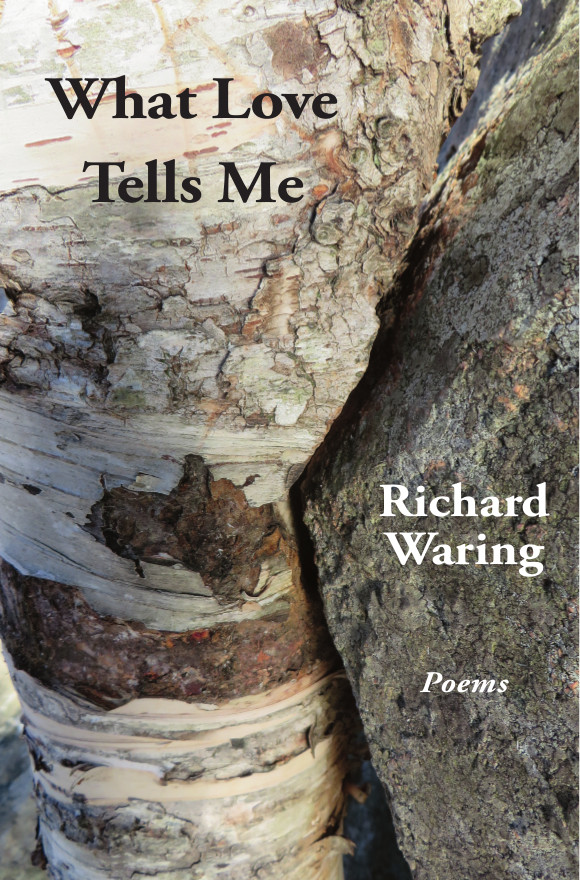 The varied terrain of love, family, solitude, the natural world, the condition of loss, the spirit of place — all align themselves in poetry. As a letter from the front lines, where the latest changes are taking place, a poem is the frankest and most immediate communiqué that struggles to reenact the original feeling in all its complexity and singularity, lifting the personal into a transcendent music. As a spiritual discipline, poetry foregoes the familiar public domain in search of the unsayable, gesturing beyond words. The questions asked can be dangerous: How do you love? When do you forgive? Do you forgive?
Sample Poems by Richard Waring
"What Love Tells Me delivers 'all the necessary and rough news' — what it means to love and lose and love again, how divorce both wounds and clarifies, and the complex range of emotions, from loss to renewal, anger to the unexpected blessings of being husband, father, divorcé, son, lover, and brother. Graced by the poet's deep and healing connection to the natural world, these poems are by turns lyrical and stripped bark-bare — 'I am the father I swore I'd never be' — as Waring movingly explores the 'requisite pain' and 'the space we must make for ourselves / the way branches make space for sky.' — Wendy Drexler, author of Western Motel
"This book begins with the breakup of one marriage and ends with the poem 'Newly Wed Again.' And in between are poems about divorce and new love and first love and brother-love — 'I Give My Brother a Kidney' — and several stunning poems about fatherhood, such as 'Oboe' and 'Watching My Son Make a Reed.' There is a pastoral quality that runs throughout Waring's poetry: 'the mossy sorrows / the grasshopping surprises / . . . that determined stalk of yarrow.' With a great deal of playfulness he takes on the familiar tales of Hansel and Gretel, Goldilocks, and Jack and Jill, giving them fresh meaning. Waring's unique sense of humor adds surprises to some familiar metaphors: 'Last night I poured tears from my eyes. / One eye flowed sadness, the other joy, / and my mouth introduced them / as long-lost cousins.' The poems in What Love Tells Me tell a great deal about love in all its varieties."— Grey Held
"Richard Waring's What Love Tells Me is the true poetry of a life lived. Waring invites us to share in this journey through marriage, parenthood, divorce, and then to new love, all the while asking us to witness the miraculous in the everyday. Early in this book his daughter is 'called' to love a broken and discarded doll, and a bowling game with his son is played through his son's fear 'that he was once a god' while the descending pins move in like 'a host of new angels sent to save us.' Nothing is just what it is, and for Waring love elevates us as love must elevate us even in moments of suffering: a father's 'betrayal' of his son, giving him over to the EMTs, 'and they take him.' Waring's poems are beautiful in their optimism, like rescuing a hummingbird, hoping for 'wings to beat to blurred haste.' Even in divorce, the choice of hope is 'to find what stones of happiness might last.' In the migratory patterns of monarch butterflies, Waring offers to us his pleasure of being alive in the world, concluding 'I, too, ache to make / a wild dogleg turn, to rise and fall . . . into a new story.'" — Carol Hobbs
Richard Waring has published widely. A longtime resident of Belmont, Massachusetts, where he raised a son and daughter, he now lives in neighboring Arlington with his wife and her children. He is senior layout artist for the New England Journal of Medicine.
ISBN-13: 978-1625492029, 86 pages, $18