Under the Spell of a Persian Nightingale, Poems by Diana Woodcock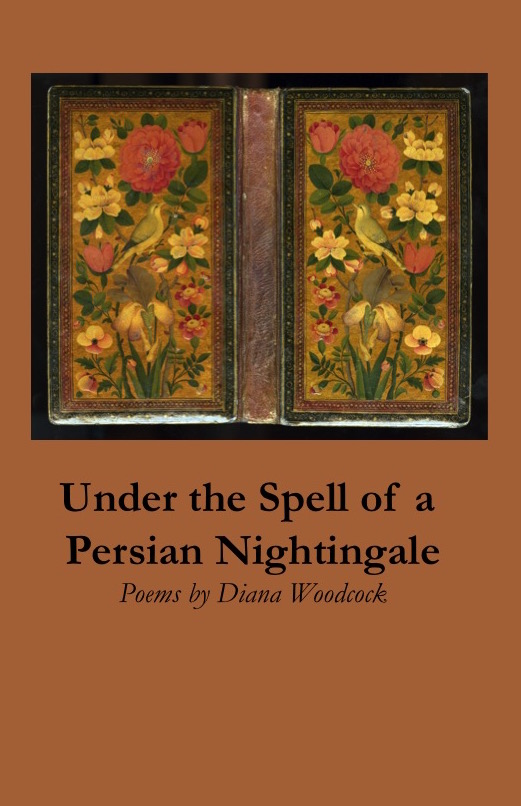 The desert narratives in Diana Woodcock's collection become scenes of lush lyricism, color and life bursting from the arid landscapes.
Sample Poems by Diana Woodcock
"Diane Woodcock displays such keen sense of finding beauty and wonder in the most unexpected moments. These poems sing the difficult songs of finding a sense of home both in the Middle East and in the Everglades of Florida--mayhem laced with the marvelous balms of surprising metaphor when interrogating celebrations of life and death. The speaker promises, 'You'll feel a kinship with spiny-tailed lizard, desert lark, kopje and jebel. The smallest pebble will become kin.' But most importantly, this book ultimately reminds us to pay close attention to our natural surroundings in order to uncover beautiful truths about the human condition."--Aimee Nezhukumatathil, author of Lucky Fish, At the Drive-in Volcano, and Miracle Fruit
"Throughout the ages, poets and prophets have gone out into the desert for inspiration. In that vast quiet, far from the petty bickering of the tribe, they can hear their inner voice, the voice of God. Wherever they live, in Arctic waste or urban jungle, poets must have the courage to confront their own personal desert: the seeming emptiness within, the blank expanses of the page before them. They discover, time and time again, that this is only a seeming emptiness, that the fountains of creation flow beneath its surface. In this book, the summation of a lifetime's wandering in the dunes, Diana Woodcock digs deep beneath the sands, brings us back the 'pure gift' of the desert."--Dan Veach, editor of Atlanta Review, author of Elephant Water
"Woodcock does what many dream: she unites travel and engagement, belonging and adventure, reality and mystery in one singular voice. Under the Spell of a Persian Nightingale asserts that we must be 'shaken out of complacency' and look beyond a narrow, easy definition of home. With her, we 'Forget moon, sun, and stars' to revel in the desert's 'Shamal-driven grains of sand' and celebrate 'two hundred / million years of turtle life,' then spin, 'Dreams of safety kissed goodbye,' to hear 'voices from under / the hard-packed sand.' Joining her urgency, we 'Snap up each note and hold it / close as if it were the last.' These are no mere travel poems; Woodcock lives long and deeply in the places she shows us, so the details come from large and complex knowing. Thus we may return having sunk deep into the 'immeasurable, unpredictable beauty' of new lands, deep into a new and lovely voice, 'disturbed, awakened—hope renewed.'"—Nancy White, author of Sun, Moon, Salt
Diana Woodcock is the author of Swaying on the Elephant's Shoulders, which won the 2010 Vernice Quebodeaux International Poetry Prize for Women(Little Red Tree Publishing, 2011). Her six chapbooks include Beggar in the Everglades, Desert Ecology: Lessons and Visions, Tamed by the Desert, In the Shade of the Sidra Tree, Mandala, and Travels of a Gwai Lo—the title poem of which was nominated for a Pushcart Prize by Toadlily Press. In 2013, she received a Presidential Research Quest Fund Award from Virginia Commonwealth University. In 2011, she received the Distinguished Achievements in Research Award from Virginia Commonwealth University in Qatar. Recipient of the 2007 Creekwalker Poetry Prize, she has had poems published in Best New Poets 2008, Nimrod, Crab Orchard Review, Portland Review, Southern Humanities Review, and other journals and anthologies. Since receiving an M.F.A. degree in Creative Writing in 2004, she has been teaching at Virginia Commonwealth University in Qatar. Previously, she spent nearly eight years working in Tibet, Macau, and on the Thai-Cambodian border. She is a PhD candidate (creative writing/poetry) at Lancaster University.
ISBN: 978-1625491626, 150 pages, $22