Tears, Poems by Martha Deborah Hall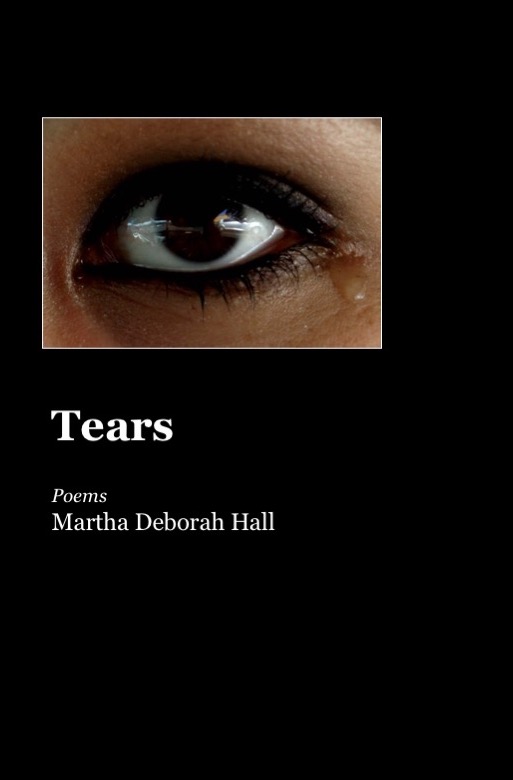 Martha Deborah Hall's Tears looks back in joy and sorrow, and looks forward with anticipation and hesitation, a powerful tension.
"In Tears Martha Deborah Hall reveals a deep longing for the essential in life; she delineates a process of letting go of that which at one time seemed so important. Like a detective, Hall takes a magnifying glass to her story to see what's hidden and finds the kernels of wisdom she has garnered from her inspected life. In these poems she describes what is before her eyes, adds unexpected combinations of images and surprising word choices, and peppers it all with some sage advice. Hall is able to make death and the dark in life palatable subjects and provokes the reader to her own self examination."-Sherry Jennings
Sample Poems by Martha Deborah Hall
"In her collection of poems, Tears, Martha Deborah Hall explores the universal themes of love and loss, aging and death, and the meaning of friendship and home. Written with her lyrical language, original imagery, and just-right dose of humor, these poems share insights about a range of emotional experiences, from sorrow and loneliness, to finding peace of mind."-Linda Thomas, Writer and Editor, Pine Siskin Press
Martha Deborah Hall's poems appear in numerous national journals including, Bellowing Ark, Common Ground Review, Las Cruces, Old Red Kimono, Tale Spinners, Tapestries, The Poet's Touchstone and Watch the Eye. She is the winner of the 2005 John and Miriam Morris Chapbook contest for her collection Abandoned Gardens. The Garbo Reels chapbook was published by Pudding House Press. Hall was a semi-finalist in the 2007 Concrete Wolf Chapbook contest and a semi-finalist in the 2010 Kathryn A. Morton Prize in Poetry presented by Sarabande Books and one of five finalists in the Vernice Quebodeaux 'Pathways" 2010 Poetry Prize. Plain View Press published three books, Two Grains in Time and My Side of the Street in 2009 and Inside Out, published and nominated for a Pushcart Award in 2011. In 2012 D-N Publishing published White Out, Hall's book on suicide and drugs. Hall's fifth book, Heading Toward Silver Dust has been published in 2012 by Plain View Press. Her book, The Closing. The Opening was a semi-finalist in the 2012 Word Works Washington Prize and was recently published by Word Tech Communications. Published by Word Tech Communications in 2016 and 2017 are Hall's books New Haven and Before the Ink is Dry. Midnights in My Mending Room, The Undertows of Anger, and "Tunnels to Up-Country are forthcoming books to be published by Word Tech.. In October, 2013, Finishing Line Press published Hall's chapbook titled Mooring Lines. Also, in 2013 Plain View Press published Hall's book titled, The Weight of Light, and in 2014 published the full-length book, Stalked in Connecticut. Hall was honored by the New Hampshire Poet Laureate to be one of NH's featured poets. She was a member of the Manchester New Hampshire Poets Unbound group. She is a member of the Academy of American Poets and The Poetry Society of New Hampshire and the Monadnock Writer's Group. She is a past President of the Amherst Junior Women's Club, was the Amherst Chairman for Ronald Reagan's bid for the presidency and was Communications Director for Alexander Haig when he ran for President. Hall holds degrees from Ohio Wesleyan University (Class of 1963) and Columbia University (Class of 1967) and is presently a Realtor with Coldwell Banker in Amherst, NH. Hall's books may be purchased through Barnes and Noble and the Toadstool Bookstores in NH and through her various Publishers.
ISBN: 978-1625492814, 126 pages, $20.00