Rubbernecking,

Poems by Molly Prosser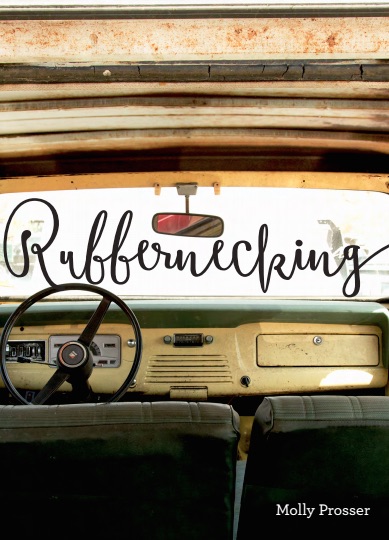 Molly Prosser's collection is a landscape of rubbernecking, images and scenes that you cannot turn away from, artfully and energetically rendered.
"In Rubbernecking, Molly Prosser invites us in to the internal self: Everyone has a secret machine. We see this machine at work in its questioning and deeper questioning, until, as readers, we find ourselves 'rubbernecking,' unwilling to look away from the scattered bodies. Bodies of animals eaten and saved, bodies of lovers eaten and saved--and we hear the speaker's call: '¦when will I stop living like someone's looking? We're looking, we're devouring this book of wonderfully various details, with pleasure."--Jan Beatty
"This immensely readable collection is bursting with life and sound, with food and geography, with sharp pop culture references, with sly humor and sudden emotion. Whether she's writing in stanzas or prose paragraphs, whether she's wandering the streets of Las Vegas or spilling potato salad in her lap or dreading her high school reunion, Molly Prosser's love of language and keen intelligence lights up the page."--Marion Winik
"Molly Prosser's poetry is honest, narrative, and wildly perceptive. Among the most striking aspects of this collection is the precision with which she elucidates the details of her speaker's world, a place filled with introspection and wonder, topography and bodies. Prosser's work is meticulous, burnished, but without losing the sloppy, ecstatic heart that pushes a poet to write verse."--Michelle Stoner
Molly Prosser is a freelance Editor and Content Strategist for e-retailers and internet start-ups. She holds a BA in English from Penn State and an MFA in Creative Writing from Carlow University where she has taught Literature, Marketing Writing, and Communication. Although she's a Pittsburgher at heart, Molly currently lives in Oakland, CA with her husband and mini dachshund.
ISBN-13: 978-1625491671, 80 pages, $18